'When Maradona hugged me, it felt like he's my grandpa' – disabled Kazakh boy on meeting his idol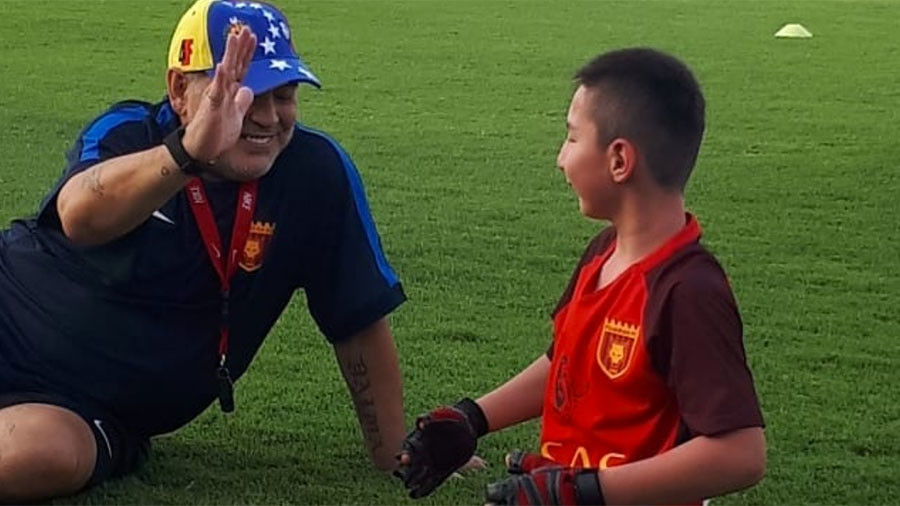 Ten-year-old Ali Turganbekov, who was born without legs, says that he hopes the world's best footballers will follow the example of Argentinian legend Diego Maradona, and will one day play football with him.
Kazakh youngster Ali, who was born with amelia, a rare birth defect, was invited by Maradona for a private training session in Fujairah, the United Arab Emirates, on Wednesday.
Maradona, who now coaches local team Fujairah FC, showed Ali how to do World Cup-winning headers.
The boy's dream was realized after Maradona spotted the video message Ali posted on his Instagram page, where he said his dream was to meet the Argentine legend.
"Hello my name is Ali," the boy said. "I like to play football, I have one dream, I want to meet Diego Maradona... please!"
After the training session with 1986 World Cup winner Maradona, Ali said that he was overwhelmed with joy and happiness, comparing the Argentinian star with a grandfather who loves his grandkid.
"I met Diego Maradona and he is really cool," Ali said to RT. "I'm enormously happy that he played football with me. He hugged and kissed me and I felt like he was my grandpa"
"I would also like to meet Neymar, Ronaldinho, Messi and Ronaldo. I' dreaming to attend 2018 World Cup matches," the boy added.
In return for Maradona's kind-heartedness and empathy, Ali presented him with a national Kazakh costume, which the retired player immediately put on.
Ali's family members are currently trying to collect money through crowdfunding to buy new prostheses that would allow the youngster to live more independently.
You can share this story on social media: