Sumo mired in scandal again after 2 wrestlers report physical abuse
Published time: 20 Mar, 2018 11:46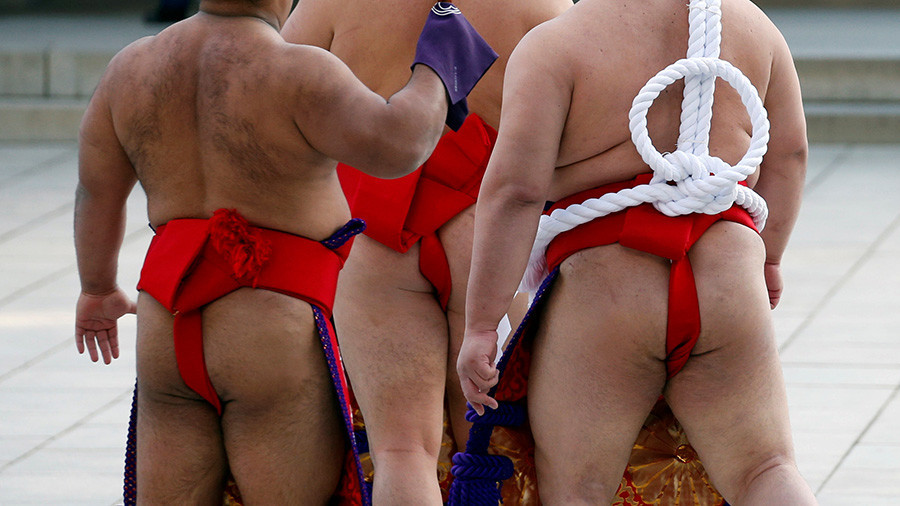 The traditional Japanese sport of sumo wrestling has been hit by yet another scandal after two wrestlers claimed to have been physically abused by senior competitors.
Juryo-division wrestler Takayoshitoshi withdrew from the ongoing Spring Grand Sumo Tournament on Monday, after it surfaced he had assaulted a lower-ranked wrestler during the championship.
The 20-year-old wrestler admitted to repeatedly hitting the junior wrestler, who was serving as his attendant at the tournament. He has since apologized for his behavior.
READ MORE: Sumo's chief referee to resign over sexual harassment of teenage official
The second physical abuse claim came from the father of a wrestler who reported that his now-retired son was physically abused at least four times at the hands of a fellow wrestler between September and January.
Japan's sumo officials are now investigating the two incidents, which have sent the highly ceremonial sport into yet another downward spiral. Sumo has recently been hit by a string of rows which tarnished the sport.
In January, top-ranked sumo referee Shikimori Inosuke was suspended for sexually harassing a junior referee during a regional tour. Inosuke, who was reportedly drunk, repeatedly kissed the teenage referee and touched his chest.
The Japan Sumo Association (JSA) imposed a three-month suspension on the referee and is expected to accept his formal resignation in May, after his ban is lifted.
Last autumn, nine-time sumo grand champion 'Harumafuji' of Mongolia was embroiled in a big scandal after it was revealed he had brutally assaulted a lower-ranked wrestler.
The 33-year-old Mongolian 'yokozuna,' the highest rank in sumo, hit Mongolian wrestler Takanoiwa during a drinking session at a bar in October, during a regional tour in Tottori, Japan.
A verbal altercation between the two wrestlers escalated into a physical brawl in which Takanoiwa suffered concussion and a fractured skull. One month after the incident, Harumafuji announced his retirement, admitting responsibility in the scandal.