'Huge sorrow': Bobrova leads Russian figure skaters' respects to plane crash victims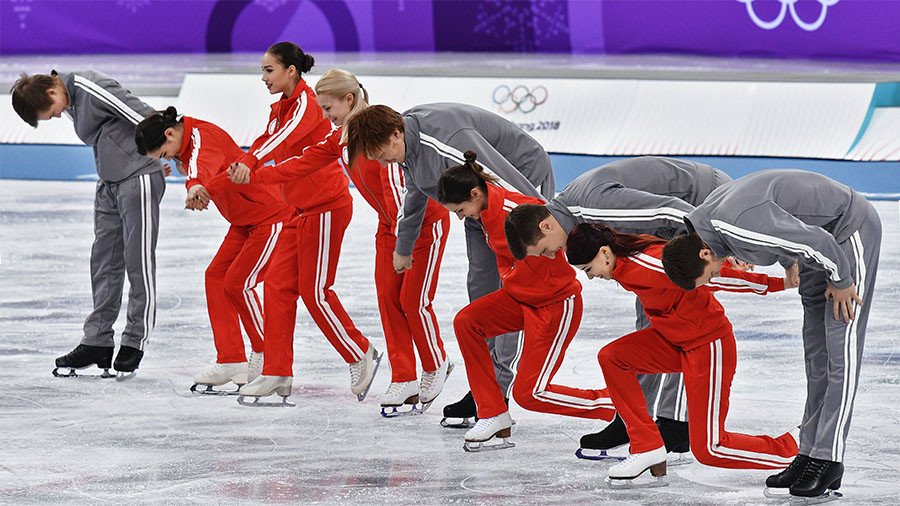 Team captain Ekaterina Bobrova and Russian silver-medal-winning figure skaters at the PyeongChang Winter Olympics have paid their respects to the 71 people killed when a passenger jet crashed in the Moscow region on Sunday.
The twin-engine An-148 plane was scheduled to travel 1,500km southeast from Moscow's Domodedovo Airport to the town of Orsk, near the country's border with Kazakhstan, when it crashed moments after take-off, nosediving into a field around 40km (25 miles) away.
All 65 passengers and 6 crew members onboard were killed. Following Russia's silver medal success in the team skating event, Bobrova read a statement in front of journalists, in which she described the tragedy as a "huge sorrow."
"For me, it's difficult to say the following as we are very happy that we won but in our country there was an air crash last night – 71 people perished," the 27-year old began.
"Each member of Team Russia would like to express our sincerest condolences to the loved ones of those who died in the plane crash. It is a huge sorrow for our entire nation. Against the backdrop of the tragedy, everything around it pales in comparison. Knowing that, we tried hard today to perform as best we could," she added, LIFE reported.
Government officials in the Orenburg region, the local authority for Orsk, declared February 12 a day of mourning after the crash.
Olympic Athlete's of Russia (OAR) skating victory was due in large part to 15-year-old Alina Zagitova's extraordinary free skate performance, which secured 137.53 points in the women's event.
OAR racked up 66 points to finish behind gold medalists Canada, who had a total of 73 points, while USA came third with 62 points.
READ MORE: Moment of deadly An-148 crash in Moscow region caught on CCTV (VIDEO)
You can share this story on social media: