Belarus warned against displaying Russian tricolor at PyeongChang 2018 Paralympics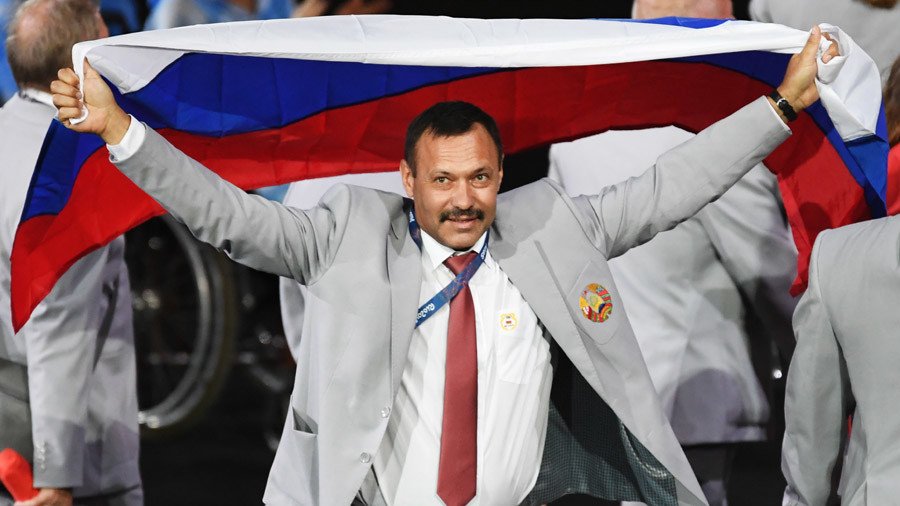 The Belarusian delegation attending the 2018 Paralympic Winter Games in PyeongChang has been warned against displaying the Russian national flag to avoid any possible sanctions by the International Paralympic Committee (IPC).
"We have already received an official notification which reads that we are prohibited from holding any public actions even in hotels located outside the Olympic village. It is one of the conditions of staying in the hotel," Belarusian Paralympic Committee head Oleg Shepel told Pressball. "I don't know whether other delegations received the similar notification, or it was addressed just to us."
In 2016, the IPC disqualified the entire Russian Paralympic squad from the Rio Summer Games following the publication of the McLaren report, which alleged that Russian athletes had been involved in state-sponsored doping.
At the opening ceremony of the Rio Paralympics a member of the Belarusian delegation, Andrey Fomochkin, a former USSR winter triathlon champion who also served as Belarus' Deputy Sport and Tourism Minister, unfurled the Russian national flag in a sign of solidarity with the banned Russian Paralympians.
His actions led to the IPC stripping him of accreditation to the Games as punishment for showing the national emblem of a country that was banned from the Olympics.
"I want to underline that back then [in Rio] we managed to protect our team by saying that it was an action of support aimed at the athletes who had been groundlessly banned from the competition," Shepel added.
On Monday, the IPC allowed Russian Paralympic athletes who have not been implicated in doping to compete as neutrals at February's Games in PyeongChang, South Korea. The decision was strongly criticized by the German Disabled Sports Association (DBS), which called the approval of the Russian competitors "a slap in the face."
READ MORE: Intl Paralympic Committee maintains suspension of Russia's membership
Before the final decision on Russia's participation in the Paralympics was announced, German Para Nordic Skiing coach Ralf Rombach said that several countries had planned to boycott Olympic skiing events if the Russian competitors were not allowed to compete.
You can share this story on social media: