Russia striker Kokorin fires pistols in wild football wedding celebrations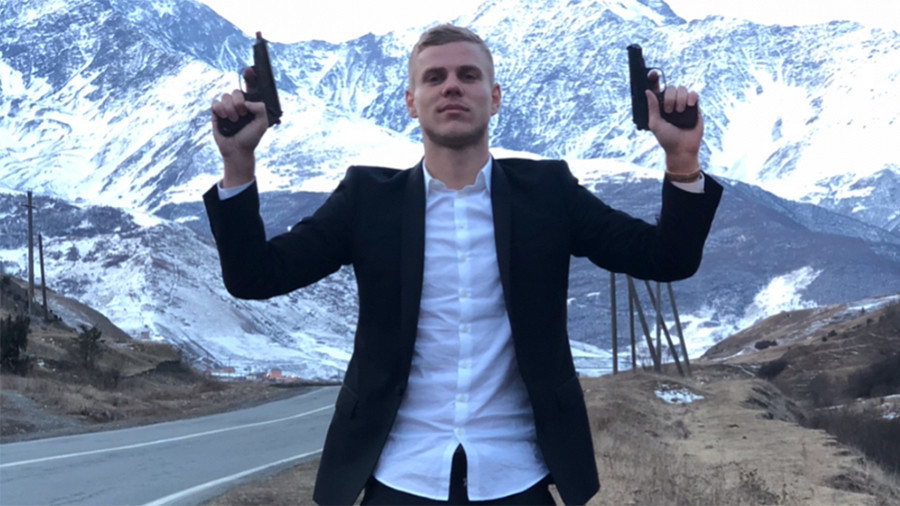 Russian international striker Aleksandr Kokorin could have landed himself in hot water after firing shots from a pistol at a recent wedding. Kokorin also posted pictures of himself posing with the weapons on Instagram.
The footage and pictures were taken while Zenit St. Petersburg forward Kokorin was attending the wedding ceremony of friend and FC Krylia Sovetov Samara midfielder Alan Chochiyev in the latter's native Republic of North Ossetia-Alania.
In the footage, part of the player's Instagram story and filmed by an unknown acquaintance, Kokorin congratulates his fellow footballer on the big day before apparently firing two live rounds into the air from a handgun.
Later Instagram posts show the forward posing with two pistols against a background of the Caucasus mountains, and another in which he dons the traditional Caucasian headgear 'Papakha' while sitting atop a parked car. The accompanying caption reads: "Thank you for the warm welcome".
Lawyers say that Kokorin, who is the Russian Premier League's (RPL) joint-top scorer with 10 goals, could be faced with a fine in the region of 40-50,000 rubles ($680-$850) for the stunt. The alleged act violates laws on using firearms in public places.
Moreover, the images may upset Russian national team manager Stanislav Cherchesov, who will soon be picking his squad for the Russia 2018 World Cup next summer.
Boss Cherchesov left Kokorin, who has scored 12 goals in 48 Russia appearances, out of his plans for the 2017 Confederations Cup. Following the snub, he and Zenit teammate Artem Dzyuba made headlines when they joked online about Cherchesov's moustache in an Instagram story with Nazi allusions.
In October, Kokorin made his return to the Russian national side after a year-long absence. The player had been ostracized from the international setup owing to his part in lavish €250k celebrations in a Monte Carlo night spot following the team's exit at the group stage of Euro 2016.
READ MORE: €250k on champagne in Monte Carlo: Russian players party after Euro 2016 failure (VIDEO)
You can share this story on social media: