'Looks like Susan Boyle' - Maradona statue 'likeness' panned by football fans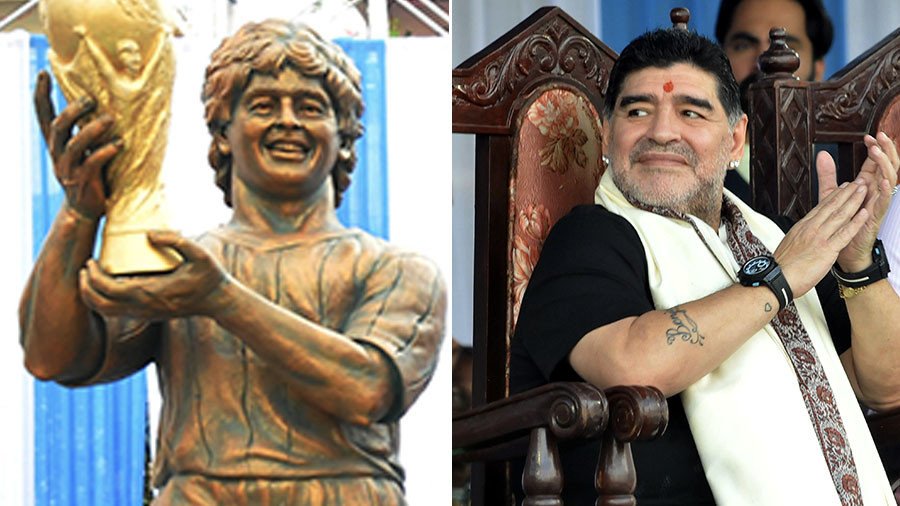 Argentine football icon Diego Maradona traveled to India to unveil a statue of himself that bears a rather poor resemblance to the 1986 World Cup-winning captain.
Maradona, 57, donned traditional Indian dress to reveal the statue at a charity event in Kolkata. The 12-foot-high sculpture depicts the legendary Argentina number 10 proudly clutching the World Cup trophy that 'La Albiceleste' won in Mexico.
However, social media users have been quick to criticize the design, saying it had little to no likeness to the mercurial former Napoli and Barcelona playmaker.
"This statue of Diego Maradona in India doesn't look like him at all. More like a female. Guess they did a CR7 on him," one Twitter user wrote.
Another said that the statue bears more of a resemblance to something between Susan Boyle and former England manager Roy Hodgson. Some said it looked like Irish comedy persona Mrs. Brown.
One social media user quipped: "Diego Maradona is in India & a statue of him was unveiled at a charity event in Kolkata. Good to see the chap that did the Ronaldo one is still in business," making reference to Cristiano Ronaldo's awry bust, which was unveiled at an airport in his native Madeira.
In March, the bust of the 32-year-old Real Madrid star was revealed at the newly renamed Aeroporto Cristiano Ronaldo on the tiny archipelago off the northwest coast of Africa, which was panned by social media users.
READ MORE: Cristiano Ronaldo has airport named in his honor... but bust breaks internet
You can share this story on social media: