Sports world rallies round bullied schoolboy Keaton Jones after heartbreaking video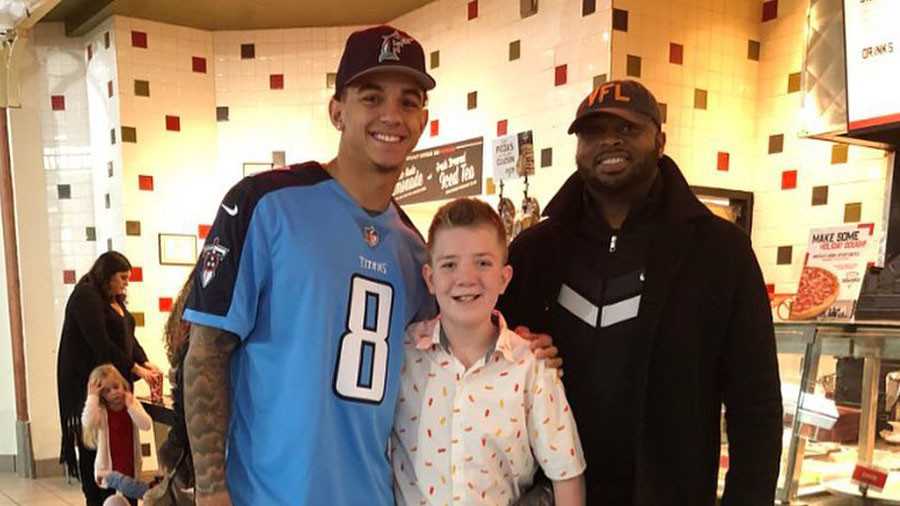 The world of sports has rallied around US elementary school pupil Keaton Jones after a heartbreaking video, in which he details his ordeal at the hands of school bullies, went viral.
In the clip, a tearful Keaton details his ordeal at Gibbs Elementary in Knoxville, Tennessee, to his mother, saying the bullies make fun of his nose, call him "ugly" and say he has "no friends".
"Just out of curiosity, why do they bully. What's the point of it?" Keaton asks in the video, filmed in his mother's car. "Why do you find joy in taking innocent people and finding a way to be mean to them. It's not ok."
Keaton says the bullies "poured milk on him" and put ham down his clothes at lunch, and he pleads for an explanation of the abuse, ending with a heartfelt message to other bully victims: "If you are being made-fun-of, don't let it bother you and… stay strong, I guess."
The original Facebook post of the footage has had more than 11 million views and 92,000 comments. On Twitter, it was retweeted and shared by a swathe of sports figures, including UFC chief Dana White, who offered Keaton a trip of a lifetime to spend time at the promotion's Las Vegas HQ.
"Meet Keaton Jones, a very smart little boy who is being bullied at school. This video is heartbreaking!" White tweeted with an embed of the video.
"I want to bring Keaton to Vegas and hang out at UFC Headquarters. If anyone knows how I can reach the family please let me know. Thank u everyone."
White then tweeted: "Thank u all for helping try to find Keaton. 1000% greatest post and response in my social media history. This kid is special and we all feel it. Dying to meet him"!
One of White's former UFC stars, Tim Kennedy, said he would "be honored" to "have tacos" with Keaton in a video message, and fighters Daniel Cormier, Tyron Woodley and Rashad Evans also offered their support.
NFL tight-end Delanie Walker of the Tennessee Titans recorded a video message to Keaton in which he read a poem by Buddha and offered four tickets to a Titans game to the boy and his family.
"Our life is shaped by our mind. We become what we think. Joy follows a pure thought like a shadow that never leaves. Always remember that - you can be what you want to be," Walker said.
Walker's teammate, freshman quarterback Jarrett Guarantano spent the day with Keaton. Guarantano posted a picture of himself with his "new best bud" Keaton on Sunday, claiming the youngster had "changed my life forever".
LA Dodgers pitcher Brandon McCarthy took a more pragmatic approach: "It's been awesome to see but I'm starting to worry about Keaton Jones' future grades, with all these trips he's going to be taking this year," he joked.
University of Tennessee wide receiver Tyler Byrd tweeted: "We're going to the middle school next Tuesday to show young Man some love we will also TWITTER LIVE some of it so everyone can show [their] love and support."
A string of celebrities have also offered their sympathies. Canadian comedienne Katherine Ryan made a generous offer: "Keaton, tell me their names & I will split up their parents' marriages before Christmas."
You can share this story on social media: