RT's Maria Komandnaya shares her emotions on 'huge honor' to present World Cup draw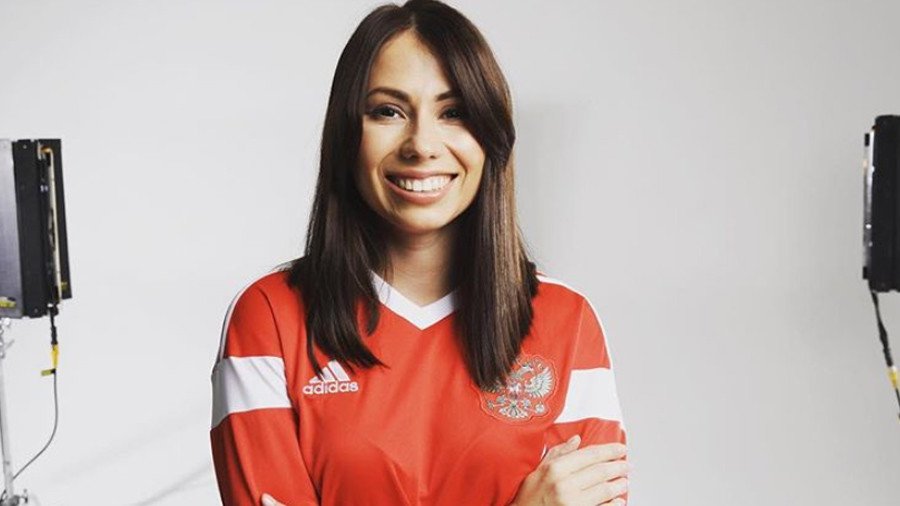 Russian sports journalist Maria Komandnaya has shared her emotions on becoming FIFA's choice to partner Gary Lineker at the 2018 World Cup Final Draw on December 1 at the Kremlin State Palace in Moscow.
The venue has seen the likes of Mariah Carey and Tina Turner perform within its walls, but will now have another diva taking its center stage: RT correspondent Komandnaya is one of the most recognizable faces in Russian sports journalism, most recently lighting up the 2017 Confederations Cup in the country this summer.
The reporter will expand her stellar CV at the draw alongside former England international and Mexico 1986 World Cup 'Golden Boot' winner Lineker, also a famous face on UK screens, most notably on BBC flagship football program 'Match of The Day'.
"When FIFA rang me to say they were reviewing my candidacy to be a presenter at the draw, I was elated – it was a huge honor for me," Komandnaya told RT.
"Nevertheless, I decided not to celebrate prematurely, while nothing was definitely decided. I had an interview, as the organization was obliged to review my level of English and how familiar I am with the footballing world. The very next day they sent me the contract!"
Komandnaya quickly tweeted her delight at landing the gig to her 33,000 Twitter followers: "I'm the happiest girl in the world!" she wrote on Friday. Both she and Lineker will be joined by eight football legends who will assist the draw, including Soviet great Nikita Simonyan, with the remaining seven to be announced soon.
Ребят, я самый счастливый человек на земле. I'm the happiest girl in the world!

— Мария Командная (@komandnaya) November 17, 2017
"As a player, I was fortunate enough to take part in the World Cup finals on two occasions," former Tottenham Hotspur and Barcelona striker Lineker told FIFA.com.
"It is quite special to be involved in yet another tournament – now on the stage, unveiling the results of the draw. I have been on the other side, waiting to find out my opponents, and I know how exciting this occasion is."
Lineker's England are in Pot 2 of the draw, whereas Russia are immediately placed into Group A as tournament hosts.
Komandnaya's social media presence is dedicated to her love of football, and includes snippets of interviews with Russia's finest figures in the beautiful game, including national team striker Fedor Smolov and Spartak Moscow manager Massimo Carrera.
"The World Cup in Russia is a chance to show the whole world what a fantastic country we have and what beautiful, hospitable people live in it. Every football fan without exception will be following the draw ceremony," she said.
"It is a real chance for us to make friends, no matter where you are from. Football unites. Football is a language the whole world speaks.
"Now [my career] is taking me to the same stage as Gary Lineker and other football stars. Believe in yourself, and your dreams, and then everything will work out for you – I am sure."
The 32 participating nations at the 2018 FIFA World Cup Russia will learn their fate when the Final Draw takes place at 18.00 (MSK) on December 1. The draw will dictate not only who each team will play, but where they will travel over the course of the tournament from June 14 to July 15 next year.
You can share this story on social media: