'They call me Putin's bodyguard' – Russian Kung Fu champ set for UFC debut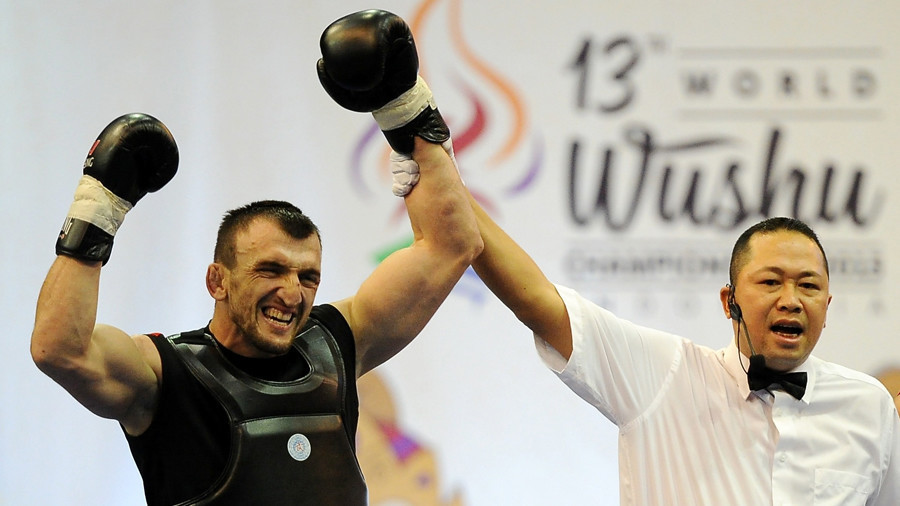 Russian Wushu Sanda world champion Muslim Salikhov is making his UFC debut on November 25. The Dagestan native, who is coming off a run of nine first-round finishes, spoke exclusively to RT Sport ahead of the event.
Salikhov, 33, has won all the possible titles in Wushu Sanda, including the 'King of Kung Fu' tournament, made his MMA debut back in 2011, since then recording 12 victories and one loss.
Remarkably, with the exception of just one decision win, all of his victories have come in the first round – 10 by way of knockout and one via submission (triangle choke).
The only MMA loss, as Salikhov told RT Sport, came because he was unaware of the type of tournament that his former manager had signed him up to. Thinking that he was entering a kickboxing tournament, Salikhov said that he was taken by surprise when his opponent started to wrestle him.
For those who haven't heard of Wushu Sanda before, it's a martial art based on the study and practices of traditional Kung Fu and modern combat fighting techniques, which was originally developed in the Chinese military.
Wushu Sanda tournaments are well attended in China, and Salikhov, who became the first non-Chinese fighter to win the title of 'King of Sanda' (also known as King of Kung Fu) back in 2006, is something of a popular figure in the country.
As the 'King of Kung Fu' has contested most of his MMA bouts in China, the UFC unsurprisingly offered him a fight at their tournament in Shanghai, which will be held next weekend.
RT Sport contacted Salikhov to learn more about the 'King of Kung Fu' from Dagestan, his upcoming UFC debut, and the nickname he received in China.
WE COME FROM THE SHAOLIN OF DAGESTAN
RT: You're making your UFC debut next weekend on the Shanghai card, how are your preparations for the fight going?
Muslim Salikhov: We're currently preparing in China, in the city of Chengdu, where our friends from Dagestan have an MMA school. Our coach here is Magomed Gadzhiev, plus freestyle wrestling coaches from Dagestan. Their school here develops Chinese MMA, so to speak. We have everything we need to prepare here. They're fantastic hosts. I've been coming here for a long time already, as I've had many fights in China, both in Wushu and MMA. So from here we'll go to Shanghai.
RT: What aspects are you working on at the moment?
MS: Now it's mostly about my game plan, some tactical aspects for the fight. Garcia is a well-rounded fighter, good at both striking and wrestling. I'll try to use my speed advantage in this fight. Plus, of course, I'm cutting weight and following a diet.
RT: You're a pretty big welterweight. How much do you normally cut for your fights? And what's your walk-around weight?

MS: My walk-around weight is about 89-90kg (198lb). But I've always fought as a welterweight all of my career, and it's never been a problem for me to make the weight. First UFC offered me a fight in the middleweight category, but as I said I've fought at welterweight all my life, so I don't have plans to go up in weight class.
RT: Is there anyone in particular among the UFC welterweights that you'd be interested in fighting in the future?
MS: It's a very hard division, but I don't really like picking my opponents. It's the organization's job to do the matchmaking. My job is to show entertaining fights. The better I fight, the better opponents I'll get in the future. But if I had to pick one, I'd say 'Wonderboy' Thompson. I like his technique and what he does in the cage.
RT: We know that you train with your friend Zabit Magomedsharipov, who also comes from a Wushu background and will fight on the Shanghai card. He had his UFC debut in September and it was a very entertaining fight. Has he raised the bar for you as well?
MS: Well, Zabit is Zabit. He proved himself even before his UFC debut, being a champion in ACB (Absolute Championship Berkut). We didn't expect him to perform any different, at least I didn't. If we're talking about my performance, my goal is always to show my best. I don't look to win on points, I'm always looking to put on a show.
RT: We know that you and Zabit also come from the same school in Dagestan - 'Five Directions Of The World'. Could you tell us a little more about this school?
MS: We come from the same coach, Gusein Magomaev, the founder of Five Directions Of The World. Obviously we were in different age groups. I'd even say that our styles differ. I'm seven years older than Zabit, and have practiced Wushu a lot longer. But yes, we come from the same coach. Five Directions Of The World is a boarding school in the mountains of Dagestan, kids stay there for six days a week to study and train. There are plenty of martial arts at this school, not just Wushu.
RT: What does the name of the school mean?
MS: The concept, which originates in oriental culture, was created by our coach Gusein Magomaev, who studied philosophy, and who I'd say is a philosopher himself. The symbol of the school is a pyramid, which has four edges at the bottom, which point north, south, east and west, while the top of it points to space. I can't really explain the full meaning in short. It's worth a separate discussion. In short, they call this school The Shaolin of Dagestan. At least, here in China.
PUTIN'S BODYGUARD
RT: Talking about China, we know that you're really famous there. Do you get recognized by people on the street a lot?
MS: Wushu Sanda is a big sport in China. So yes, people do recognize me on the streets, and ask for pictures. Sometimes even taxi drivers recognize me and say that they won't charge me for a ride (laughing). I really feel at home in China. I'm not very well known in Russia, except maybe for my native Dagestan. But when I go to places like Moscow or St. Petersburg, there are usually a few hardcore MMA fans who recognize me. In China it's just regular people who ask me for pictures.
RT: We also know that you have a special nickname in the Wushu world, or let's say in China. The way they introduce you at tournaments.
MS: Yes, that's right. They call me 'Putin's bodyguard.' When it all started I constantly denied it, saying, 'no, I'm not Putin's body guard.' But they still did it at tournaments and press conferences, every time. So I figure I should just let it go. Instead of denying it, I began saying, 'I'm not supposed to talk about it' (laughing). China is a very different, very special place. You have to come here and experience it yourself. The way they see things, the way they see life. They have a different mentality.
RT: One important aspect of being popular in the UFC, besides the fighting itself, is the ability to speak English. How well do you know English?
MS: I actually speak some English. I lived for almost three years in Thailand, where English is the international language for all foreigners. Plus, I've been to many training camps in the States, in Brazil. I haven't really taken any English classes or anything. But I did learn some by communicating with people. So, yes, I can communicate and give interviews, for example.
RT: Should UFC fans expect some callouts or trash talk from you?
MS: I'll never start insulting my opponent first. If anyone insults me, of course I won't keep quiet. But I have no intention to 'talk shit,' as they say. I respect my opponents, and I expect them to respect me. But if they don't, they'll pay for it in the cage.
RT: You're coming off a series of nine first-round finishes, eight of which were straight knockouts. Should UFC fans expect to see more of the same in the octagon?
MS: Of course I want to finish all my fights in the first round. The quicker you finish your fights, the longer you last as an athlete. Plus, it's a great show for the fans. They want to see more knockouts, more finishes. And every time I have a fight ahead of me I always think, 'will I be able to finish it quickly this time?' It's a challenge for me, too. But, I'm always 100 percent ready for a full fight. I'd never go in the cage unprepared. I'm always there to steal the show.
by Denis Geyko for RT Sport
You can share this story on social media: