'Disgrace to superior black race' - Anthony Joshua allegedly sends 'racist' messages to rival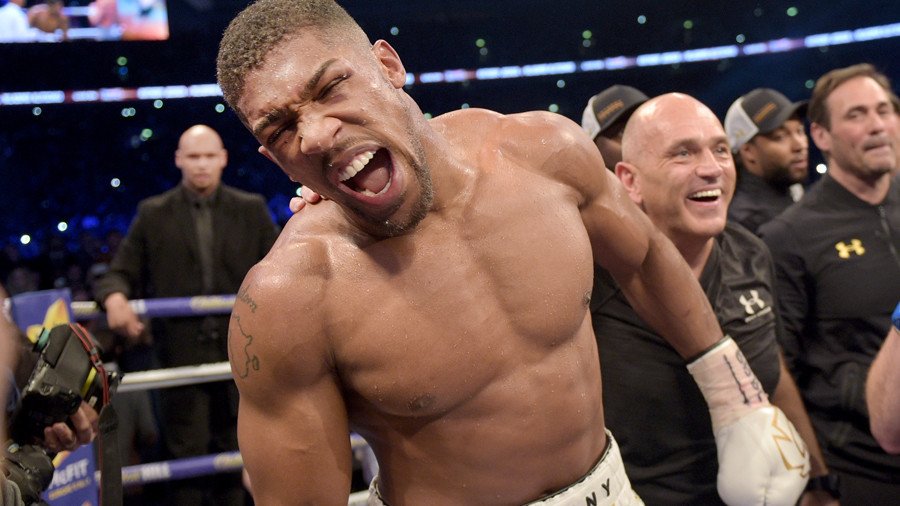 World heavyweight boxing champion Anthony Joshua has been accused by rival Eddie Chambers of sending 'racist' messages, in which he calls the American a 'disgrace to the superior black race.'
Chambers, a former world heavyweight challenger who is nicknamed 'Fast Eddie,' posted snaps on Friday of a series of abusive direct messages apparently sent from Joshua's verified Instagram account.
The correspondence was instigated from the verified account 'anthony_joshua,' the same Instagram profile name as the IBF, WBA and IBO heavyweight championship belt holder, with a message attacking Chambers, apparently without provocation.
"You're a little bitch, remember that," the message reads, to which Chambers responds, "Oh now you grew enough balls to talk all these years later, I remember when you was quiet as kept."
Chambers goes on to accuse Joshua of being "tough" only now that he is champion, which is met with the response, "Bitches talk. Real ones move in silence. U are bum. Disgrace to the superior black race! F*ck u."
In captions that accompany one of the posts, Chambers, who was KO'd by Wladimir Klitschko in his challenge for the heavyweight championship in 2010, admonishes "fellow black brother" Joshua for the attack, insisting the 2012 Olympic gold medalist should be "ashamed."
"Now this is the comment that Really Exposes who Anthony Joshua Really is He said I'm a disgrace to the superior Black Race how so????," wrote Chambers.
"I grew up very poor and [h]ad it very hard and still made something of myself. I always show respect and carry myself with class by treating people how I want to be treated and in return I have my "Fellow" Black brother who I said nothing disrespectful too calling me a disgrace to my Race????
READ MORE: 'Get fit you fat f***' – Anthony Joshua fires shots at former champ Fury
"I am a very proud African American male and proud to be a positive on in a society that tries to make us seem negative because of a few bad apples Anthony Joshua you should be ashamed of yourself and if you don't fight me you['re] the dis[g]race [shaking my head] and how would your white fans feel about your racist comment saying the black race is superior or even better."
A video was also posted to Chambers' Instagram account, showing a man named 'Coach Anthony' scrolling through the direct messages on Chambers' phone before clicking on the icon of the sender, which leads to Joshua's verified Instagram account.
Joshua's promoter, Matchroom's Eddie Hearn, claimed the messages were from a fake profile, insisting the spaces between the underscore on the account in question did not correspond to that of Joshua's authentic account.
It's fake - look at spaces between underscore

— Eddie Hearn (@EddieHearn) November 16, 2017
However, there are no apparent discrepancies between the spaces on the sender's name and that of Joshua's account. Joshua, who is unbeaten in his professional career and boasts 20 knockouts from 20 wins, is yet to comment on the messages.
You can share this story on social media: