'Slash-throat' gestures being investigated in South American officials' FIFA bribery case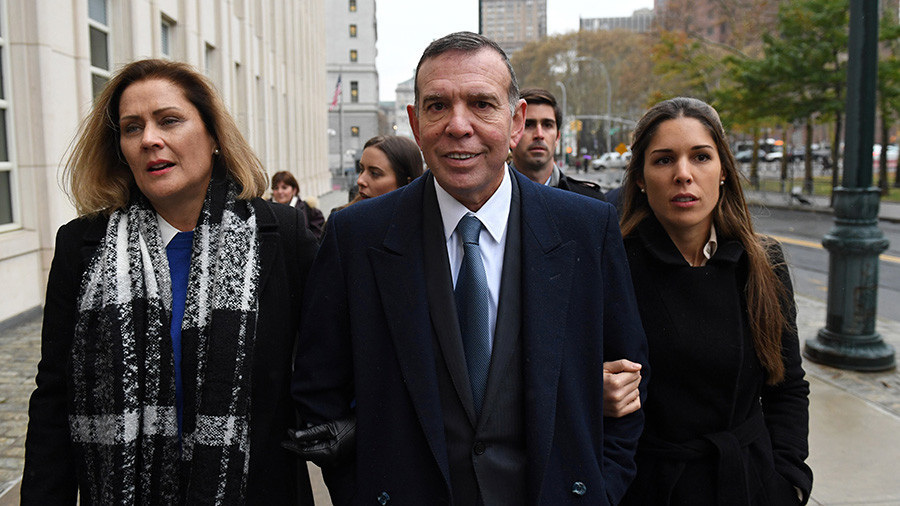 Former FIFA vice president Juan Angel Napout is one of three former South American football officials on trial in the United States, charged in the FIFA bribery scandal.
The three officials are accused of taking part in a 24-year international scheme involving $150 million in bribes in exchange for lucrative broadcasting and hosting rights for soccer tournaments.
Napout, the former Paraguayan Football Association president, Jose Maria Marin, and the former head of Brazil's Football Confederation and former president of Peruvian Football Federation, Manuel Burga, have each pleaded not guilty to racketeering conspiracy and other charges, the Associated Press reports.
Read more
However, one trial witness, former marketing executive Alejandro Burzaco, testified that he laundered millions of dollars through business entities which eventually reached Napout in the form of bribes.
A district judge is currently scrutinizing video footage that Burga made a 'slash-throat' gesture to Burzaco following his testimony.
While the prosecution claim the footage shows Burga making a distinctly threatening gesture to Burzaco, the defense attorneys claim the official was merely scratching his neck.
On Wednesday, Argentine football official Jorge Delhon committed suicide just hours after he was accused of taking $2 million (£1.5 million) in payments in exchange for rights for broadcasting football games.
Burga is currently under house arrest at his Brooklyn residence. The judge severed his access to phones and computers, although he has some privileges to leave the home.
Peru, the nation Burga formerly represented, gained the 32nd and final spot at the Russia 2018 World Cup with a playoff win over New Zealand on Thursday.
Goals from Lokomotiv Moscow forward Jefferson Farfan and Christian Ramos gave La Blanquirroja a 2-0 win in the Estadio Nacional de Lima in the Peruvian capital.