'I ban my haters' – Russian powerlifting champ Nataliya Kuznetsova (PHOTOS)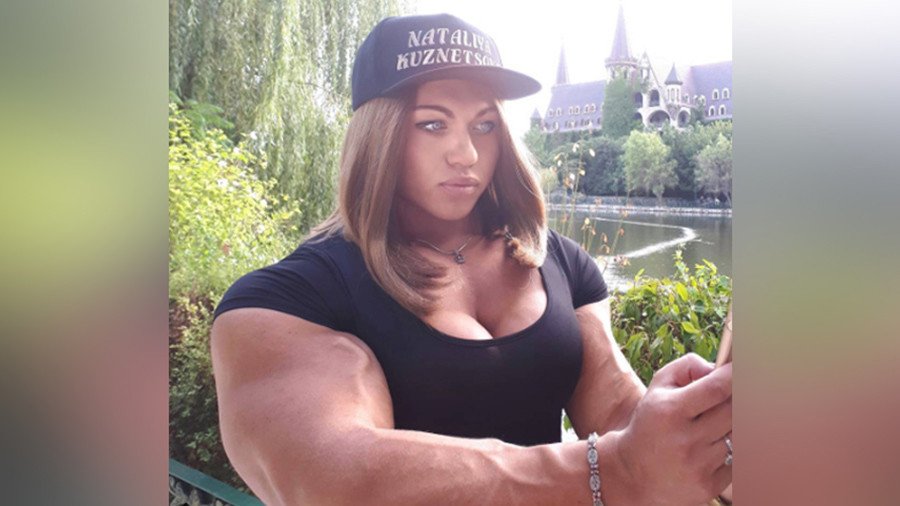 Russian powerlifting and bodybuilding champion Nataliya Kuznetsova, who recently announced her professional comeback, has talked about her growing fanbase and the frequent requests she gets for photos and to help people with their training.
Kuznetsova, 26, who is a female powerlifting champion and record holder at Russian, European and World levels, recently announced her intention to come back to professional competition. To learn more about the comeback of the muscular Russian as well as her personality, we spoke to Nataliya.
RT: You recently announced that you're returning to professional competition. Why did you take a break?
Nataliya Kuznetsova: I took a break because of the situation in bodybuilding competitions. I was preparing for a competition in the USA, but at the very last moment my visa was declined. But I guess it was for the best, as I didn't really agree with the result of the contest. And then again, you don't really earn much from going to competitions, you rather spend money. Now I'm in good shape, it brings me recognition and good business offers. I'd even say that I have more business offers than I used to have going to competitions. You can be a champion, but have no fans. The most important thing is to be in good shape, that way people will always be interested in you.
RT: What about your powerlifting achievements?
NK: At the moment, my personal record in bench press is 175kg (385lbs), 240kg in deadlift and 280kg in squat.
RT: What are your current muscle measurements?
NK: It's hard to say as they are constantly changing. Most recently I had 48cm (19in) biceps, 74cm hip, 70cm waist, 127cm breast, and I stand 170cm. My weight at the maximum was a little more than 100kg (220lbs).
RT: Does your size cause you any problems, for example on public transportation or in movie theaters?
NK: Not really. There are enough people who are actually bigger than me. Both men and women. People can be big without muscles as well. I'd say that a muscular body gives you an advantage rather than problems.
RT: You have a lot of followers on Instagram. Do you know if they are men or women mostly?
NK: Each week my Instagram gets about 3-4 million views. Mostly by men. About 80 percent are between 25 and 35 years old. If we talk about the countries, most of them come from the USA. Then there's Brazil, India, Germany and England. The lowest number of views I get are from Russia. It's pretty obvious when I look at the comments.
RT: Do you get any negative comments on social media regarding your appearance?
NK: When you have big, good feedback, hundreds of positive comments, of course there will be some negative comments. I don't really understand what they are mad about – I'm not saying that others should live like I do. If you don't like it, just ignore it and live your life. I just ban my haters. Most of them have fake accounts with no pictures or real names. Instead of hating they'd be better off taking care of their lives.
RT: What about in public? Do you get any negative comments from people?
NK: Most of the negative comments bodybuilders get in real life are from teenagers who recently began practicing bodybuilding. These kids wear tank shirts in the summer and walk around like they are carrying two watermelons. Actual bodybuilders don't walk like that. I like dressing nicely, and I rarely wear sports clothes. Lots of people recognize me and ask for pictures. I never really heard any negative comments in real life.
RT: We know that you're married. Is your husband also a bodybuilder?
NK: We've known each other for a long time. He's also an athlete. He helps me a lot. He used to be a freestyle wrestler, and even achieved the rank of master of sport. Now has a business in the food industry.
RT: Do you provide personal training sessions?
NK: There are too many people who want me to help them with training. But I don't have enough time for it. So I rarely do that.
RT: The people who are looking to hire you as a personal coach, are they mostly men or women?
NK: Most of them are women. Most of the men for some reason think that they don't need a coach, and only ask for help when they realize they aren't achieving any results. Girls act much smarter in that regard. They seem to value their time more.
RT: What advice do you have for women who want to do bodybuilding and perhaps achieve such a great result as you?
NK: You should take care of your health first of all. And don't train until you get approved by a doctor. And don't train without a coach – it will save your time and health. Don't be afraid of having ambitions, but rate your ability responsibly.
You can share this story on social media: