Chess grandmaster Karjakin & NHL's Malkin join 'Team Putin' in show of support for Russian president
Chess grandmaster Sergey Karjakin and NHL player Evgeny Malkin have announced on their respective social media accounts they will be joining the "Team Putin" movement as an official show of solidarity with Russian President Vladimir Putin.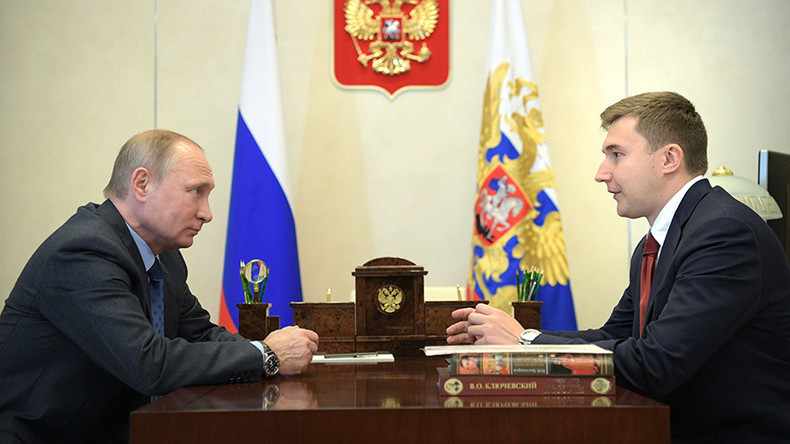 The "Team Putin" initiative was formed by Russian NHL star and Washington Capitals captain Alexander Ovechkin earlier this month, who announced on his Instagram page he wanted to create a sports team that represented a "strong and close-knit Russia."
Announcing his support for the movement, Karjakin tweeted a picture of himself and the Russian leader, accompanied by the words: "I was always open to supporting Putin, now I can finally do it officially. Team Putin - I'm on board."
The 27-year-old is famous for his battles with Norwegian Magnus Carlsen, the World Chess champion, who retained his title last year in a high-octane quickfire tie-breaker against the Russian.
Karjakin has subsequently become an idol of the emerging "smart is the new sexy" brand of sports stars, and has been credited with popularizing chess among younger crowds, especially in Russia.
READ MORE: NHL star Ovechkin launches 'Team Putin' ahead of Russia's presidential race
His personal accolades include the Chess World Cup 2015, becoming World Rapid Chess champion in 2012 and victory in the 2016 World Blitz Chess Championship. He also holds the record for the world's youngest grandmaster, receiving the title aged 12 years and 7 months.
Three-time Stanley Cup winner Malkin, who plays for the Pittsburgh Penguins, went for a more understated post to his Instagram page, simply posting a picture of himself with President Putin, with the caption "Team Putin - I'm on board."
Speaking about his own commitment to the Team Putin cause, goalscoring great Ovechkin wrote "Personal awards and trophies are great, but in hockey, as well as in any other matter, the team is more important for the victory. Me, personally, I would like to be a part of this team," to his near 1 million followers on Instagram.
You can share this story on social media: