'When McGregor called me a Nazi it just showed his level' – ex-UFC Dennis Siver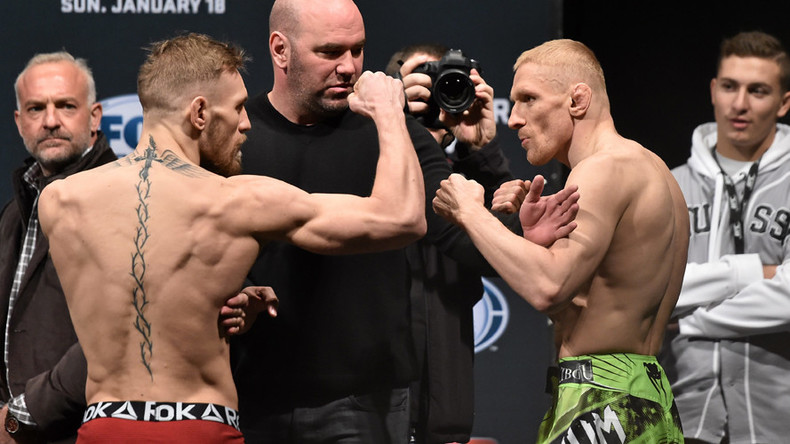 UFC veteran Dennis Siver, who fought for the promotion for a decade and recently signed with Russia's ACB, spoke exclusively to RT Sport to share his memories about past years in MMA, as well as his hopes for the future.
A German citizen of Russian descent, 38-year-old Siver fought as many as 21 times in the UFC. This week he signed a four-fight deal with Absolute Championship Berkut (ACB), where he'll compete in the lightweight division.
Following the news, RT Sport spoke with the MMA veteran (23-11) to learn more about his move as well as his past experience in the UFC, which included fights with such notable stars as Conor McGregor, BJ Penn and Donald Cerrone.
RT: We learned a few days ago that you've signed a multi-fight contract with ACB. Could you tell us a little more about how it all came about?

Dennis Siver: As my UFC contract had expired and I didn't receive a new offer from them, we started to look for other options. I always wanted to fight in my homeland of Russia, so the ACB option was an easy choice for me. Plus they made a good offer. My first fight will be in Germany, which I also represent. But, as I said, I would love to perform in Russia. And I know that ACB hosts big events in Moscow and St. Petersburg.

RT: Did you follow ACB before signing with them?

DS: Yes, of course I'd heard of ACB before. They host their tournaments all over the world, they sign good fighters, they sign guys with UFC experience. There are some fighters on their roster who I know, some fighters from Germany. Plus I like the fact that in ACB they concentrate more on good fights rather than trash-talking. I'm that sort of a person myself. I like to concentrate on the training, concentrate on the fights. I don't like it when people insult each other for no reason just to sell their fight. I respect my opponents, we all do the same thing. So I'm glad to join a promotion with such a concept.
RT: Talking about the trash-talking and insults. Before your fight with Conor McGregor back in 2015, among other things he called you a Nazi. What was your reaction back then?

DS: It just showed his level. He just wants to say things to be noticed. Although he doesn't even know what he's talking about. It's just pure ignorance. He didn't even know that although I represent Germany, I come from Russia. And then again, calling a person a Nazi just because he represents Germany is pure ignorance.

RT: What part of Russia do you come from? And did you start your way in the martial arts back in Russia?
DS: I come from Siberia, from the city of Omsk. And yes, that is where I began my way in martial arts. I started in kickboxing. I competed for about three years at the junior level before moving to Germany, when I was around 17. Then in Germany, I continued to compete in kickboxing, and won the German championship the same year. Then I went for the world championship, but I didn't really achieve great results; I was only 18 back then. Then I had a few years' break before switching to MMA when I was around 23. And eventually I got into the UFC, where I fought for 10 years.
RT: Omsk is also home of many notable MMA fighters, such former Bellator champion Alexander Shlemenko, ACB bantamweight champion, Petr Yan, who is now making his UFC move. Do you follow any of your fellow fighters from Siberia?
DS: Yes, of course I follow Siberian fighters. I even know Shlemenko personally. Long time ago we even competed at the same tournament in Slovenia. We kept in touch since then. And of course I am glad when other fighters from Siberia achieve good results in this sport. Siberia is a tough, cold place, but it helps people in the martial arts somehow. Siberians take martial arts very serious and they don't give up. I've never forgotten where I come from. And I think it even helped me in my career.
RT: What other fights from your 10-year career in the UFC stand out for you the most?
DS: Perhaps my last fight against BJ Penn. Because it was the most recent fight, it was a victory against such a legendary fighter. But there were other memorable fights in my career as well. My victory against George Sotiropoulos in his native Australia, where the whole crowd was against me, booing me, throwing plastic glasses at me and so on. The same thing applies to my fight in England against Paul Kelly. Obviously, a hostile crowd, booing me and all that. But they went silent after I knocked him out. Plus my fights on UFC cards in Germany were memorable for me too.
RT: Ten years in the UFC is a pretty long stretch. How do you rate the growth and development of the UFC in the last 10 years, being part of the organization for a decade?
DS: From the very beginning of my career in the UFC everything was organized very professionally, all the small aspects. And it's only got better throughout the years. Fighters are making better money now, as the sport of MMA is developing. UFC host more events internationally. Back in the days they mostly hosted them in the States. Generally, MMA is a different sport now. Athletes are much more skilled and much better developed now. The only thing that I personally didn't like was the fact that in the last few years, the UFC have taken a turn from the sport aspect towards showmanship. They want fighters to be more active on social media, make big statements when talking to the press. Maybe it helps to develop the sport, but sometimes people cross the line with the things they say. And it just doesn't look natural. They insult each other in front of the cameras, then they shake hands after the fight and say that they only wanted to promote the fight.
RT: When you say that the UFC want fighters to provoke their opponents to promote fights, do they say it directly, or that is just something that fighters understand from their policy?
DS: No, they say it directly. They say ,'do it,' and the more you do it the better. They say it will be better for you. Maybe they're right, I don't know. They don't really force anyone. But yes, they do recommend it directly. I'm not against general media coverage, when they film the way you train, when they film your gym. Fans want to know more about the fighters. But insulting each other just to sell your fight is one thing that I don't understand. I'm glad that in ACB they see it the other way around and concentrate more on the fights.
RT: Talking about the fights in ACB, your first will be in Stuttgart, Germany, at ACB 75. Do you know the name of your opponent?
DS: No, I don't know the name yet. I know that ACB have a few options for me, but they need to finalize some details and then they will announce the name. But I'm glad to fight on the card in Germany.
RT: We also know that you're going to fight in the lightweight division in ACB. What made you want to step up to the lightweight division, because for the last few years you competed at the featherweight? Was it your personal decision? Or ACB were looking for a fighter to compete at the lightweight division?
DS: It is my personal decision. I just want to see how well can I compete without weight cuts. I feel a little tired of cutting the weight. My contract with the ACB does not restrict me in terms of the weight class. I will fight as a lightweight in my first fight, and then according to results I will make a decision if I will stay in the lightweight of move down again.
RT: Is there anyone in ACB lightweight roster you want to fight in particular?
DS: My goal is to fight for the belt. I have a four-fight deal, so hopefully after a few victories I'll get a title shot. But I have to win all my fights first of all. ACB have a solid roster and there won't be any easy fights. My other goal, as I already said, is to fight at their big tournaments in Russia. I've always wanted to fight in my homeland. In Moscow, St. Petersburg or my native Omsk. But to get this chance I have to show great results. So I'll show ACB fans everything I'm capable of.
by Denis Geyko for RT Sport
You can share this story on social media: