Tributes pour in after former All-Star pitcher Roy Halladay dies in plane crash
Published time: 8 Nov, 2017 11:20
Edited time: 8 Nov, 2017 11:56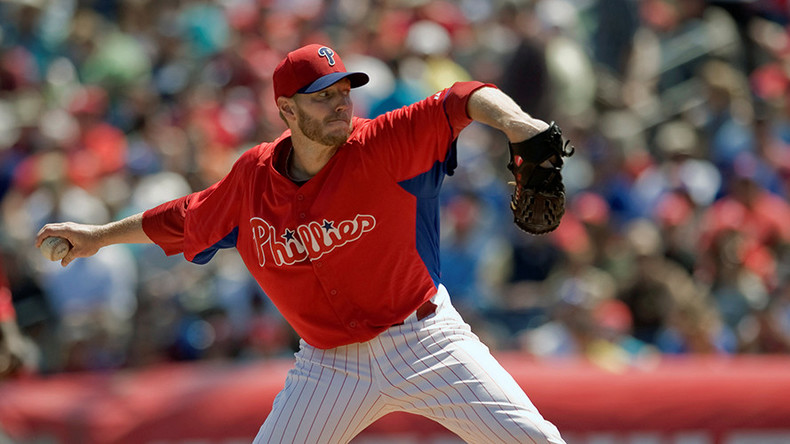 Tributes have poured in for former baseball star Roy Halladay, who was killed at the age of 40 when his plane crashed into the Gulf of Mexico on Tuesday.
Halladay was piloting an ICON A5 single-engine aircraft when he went down just off the coast of Florida. The marine unit of the Pasco County sheriff's department found Halladay's body in shallow water about 10 miles west of St. Petersburg, and he was confirmed to have been the only passenger on board the plane at the time of the crash.
Halladay, known as 'Doc,' retired from baseball around four years ago, after a glittering career saw him win two Cy Young Awards for the MLB's best pitcher and make the league's All-Star team eight times. He spent most of his career at the Toronto Blue Jays, before moving to the Philadelphia Phillies.
After the news of Halladay's death emerged, tributes poured in for a man widely regarded as one of the finest pitchers of his generation.
MLB commissioner Rob Manfred issued a statement reading: "All of us at Baseball are shocked and deeply saddened by the tragic passing of former Toronto Blue Jays and Philadelphia Phillies pitcher Roy Halladay. A well-respected figure throughout the game, Roy was a fierce competitor during his 16-year career, which included eight All-Star selections, two Cy Young Awards, a perfect game and a postseason no-hitter.
"On behalf of Major League Baseball, I extend my deepest condolences to his family, including his wife, Brandy, and two sons, Ryan and Braden, his friends and countless fans, as well as the Blue Jays and Phillies organizations."
The Blue Jays, where Halladay spent 12 seasons between 1998 and 2009, also offered their condolences in a Twitter post.
The Phillies, where Halladay ended his career in 2013, also posted a message of condolence and shared footage of some of the pitcher's finest moments while at the team, including his perfect game against the Florida Marlins in 2010.
Baseball stars past and present also expressed their sadness at Halladay's death, including recent World Series winners Justin Verlander and Dallas Keuchel of the Houston Astros.
Halladay was a keen pilot, and reportedly gained his license several years ago. Pasco County Sheriff Chris Nocco said on Tuesday that "being a pilot, flying planes, that was his passion. He would talk about it, about refurbishing planes." In recent years he had also worked with baseball youth teams.
The National Transportation Safety Board (NTSB) is investigating the crash.