Police identify Italian football ultras behind Anne Frank stickers and slogans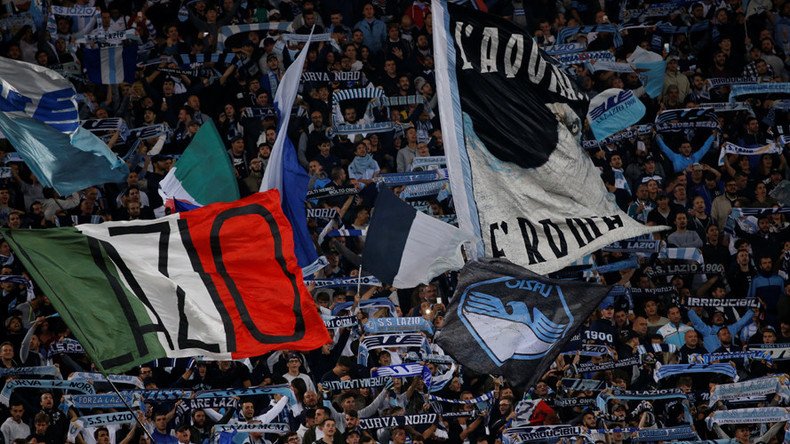 Rome police have identified the 16 fans of Italian club Lazio they believe are responsible for anti-Semitic stickers depicting Jewish Holocaust victim Anne Frank in the jersey of arch rivals Roma.
The fans, three of whom are reportedly children, caused outrage by posting the stickers accompanied by anti-Semitic slogans inside Stadio Olympico, the stadium shared by the two clubs in the Italian capital, during Lazio's 3-0 Serie A win over Cagliari on Sunday.
Those who have been identified by police face charges of instigation to racial hatred, which carries a sentence of up to four years in prison.
At the match, Lazio's ultra group, 'Irriducibili Lazio 87,' were housed in the stadium's southern curva (end), where Roma fans are usually based, because their usual northern curva had been closed due to racist chanting.
It is believed they left the stickers behind to be seen by rival Roma fans upon their next home game.
Born in Germany, Anne Frank was a Jewish diarist who perished in the Holocaust and gained posthumous fame for the regular journal she kept while in hiding with her family.
As a response to the stickers and slogans, a section of her memoirs was read before every Serie A game on Tuesday.
Lazio announced their players will wear t-shirts bearing her images in the warm-up before their game away to Bologna on Wednesday.
"Tomorrow the President has decided that Lazio will go onto the pitch for the warm-up with the image of Anne Frank, as testament to the club's commitment to oppose racism and anti-Semitism," Lazio's spokesman, Arturo Diaconale, told journalists at a press conference with Biancocelesti manager Simone Inzaghi ahead of the game.
The club have also announced plans of educational trips to Auschwitz for its young fans.
Lazio have organised a trip for 200 fans a year to go to Auschwitz to educate them as they try and stop racist chanting from their fans 👀 pic.twitter.com/vpwLtKTnxD

— UNILAD Football (@UNILADFooty) October 25, 2017
However, Irriducibili defiantly announced they would boycott the match claiming they did not wish to be part of a "media theatre."
In a Twitter post, the group called on other Lazio fans to join the notion, urging them to not contribute to the "exploitation" of the club. "Lazio and its curva comes first. For this reason the [Irriducibili] will not be present in Bologna," the group posted, as well as referencing its "eternal hatred of modern football."
You can share this story on social media: