Trump steps up attack on NFL with new anthem protests petition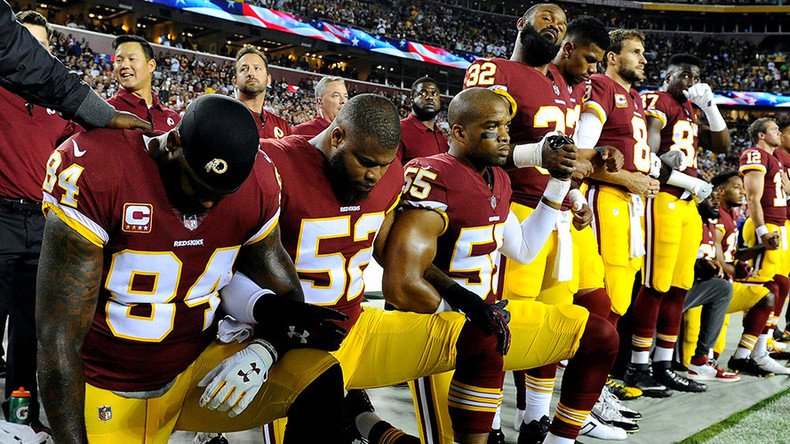 US President Donald Trump has launched a petition targeting the NFL anthem protests, asking people to "show patriotism" by signing up to support standing during the national anthem.
The petition was launched on Thursday by the Trump Make America Great Again Committee, and is the US president's latest move to target the wave of protests that has seen NFL players 'take a knee' while the national anthem is played before games.
READ MORE: Trump calls for tax changes for NFL following national anthem protests
"The President has asked for a list of supporters who stand for the National Anthem. Add your name below to show your patriotism and support," read the petition, which appeared on the Republican National Committee website.
After an NFL owners' meeting earlier this week, commissioner Roger Goodell said the league believes players "should stand" for the anthem, but decided against punishing those who choose not to do so.
READ MORE: 'Everyone should stand' for anthem, but NFL won't change policy – commissioner
Trump, however, has consistently called for any players who join the protests – which were started last season by former San Francisco 49ers quarterback Colin Kaepernick – to be fired by their teams.
The US president criticized the NFL in a Twitter post on Wednesday, accusing it of "too much talk, not enough action."
.@NFL: Too much talk, not enough action. Stand for the National Anthem.

— Donald J. Trump (@realDonaldTrump) 18 October 2017
The protests target perceived racial injustice in the US, and have spread from the NFL to other sports, including the NHL.
Last weekend, players and coaching staff at German soccer team Hertha Berlin kneeled during their league match against Schalke, to show support for "an open-minded world."
You can share this story on social media: