English football fan banned for life after joining player brawl while holding child (VIDEO)
A supporter of English team Everton has been banned for life by the club after getting involved in a mass pitchside brawl while holding a young child in his arms.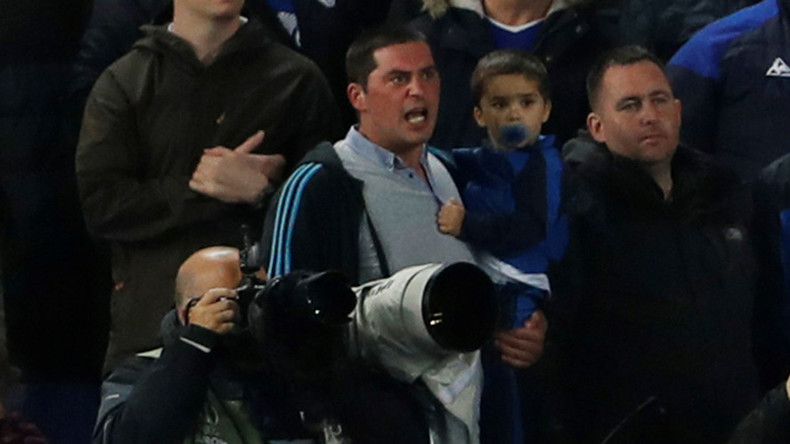 The fan was seen lunging at Lyon goalkeeper Anthony Lopes while carrying a young boy in his arms, as Everton and Lyon players brawled near the side of the pitch in Thursday's Europa League group match at Goodison Park.
The club said in a statement that they have identified the fan and have banned him for life.
"Club officials have reviewed the footage of an incident where supporters towards the front of the lower Gwladys Street End became involved in a confrontation between players," the statement read.
"We have identified one individual against whom action will now be taken. This will include a ban from attending future Everton fixtures, and the club registering a formal complaint with Merseyside Police."
Several fans appeared to become involved in the melee, which was sparked when Everton defender Ashley Williams pushed Portuguese 'keeper Lopes into the advertising boards during the second half of the match, which Lyon won 2-1.
The fan holding the child can clearly be seen in footage of the incident, and his slap at Lopes prompted an angry reaction from players from the French team.
After the game, Lopes said he didn't expect such shocking behavior from English fans.
"I don't think it is part of the English atmosphere to hit an away player, but it was like this," the player said.
"It was no big deal. It happened and that was it. For me it seemed to wake up the fans and they seemed to love it."
European football's governing body, UEFA, also said it is looking into the incident.
Everton also came to the attention of the footballing authorities in August, when fan unrest during a Europa League match against Croatian team Hajduk Split caused play to be stopped. Both clubs were fined over the incident.
Separately, UEFA has charged Italian team Roma, after the club's fans were heard aiming monkey chants at Chelsea defender Antonio Rudiger in the teams' Champions League match in London on Wednesday. A UEFA committee will meet in November to discuss the case.
You can share this story on social media: