Colin Kaepernick files grievance against NFL over alleged 'collusion' not to sign him
Published time: 16 Oct, 2017 12:27
Edited time: 11 Apr, 2018 12:30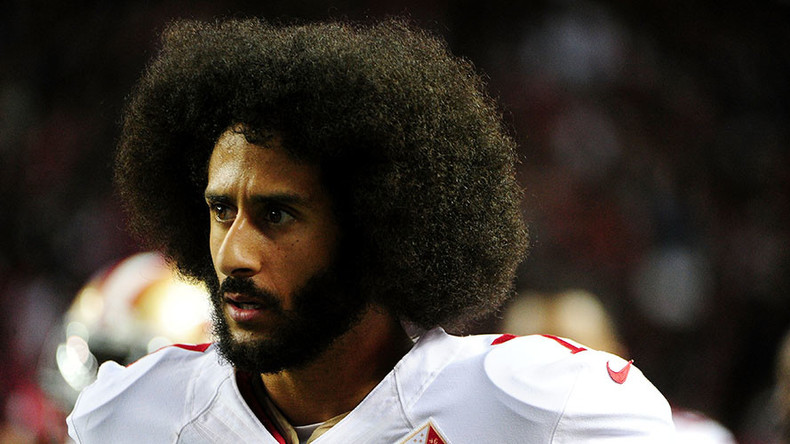 Former NFL quarterback Colin Kaepernick, who triggered the wave of 'take a knee' protests, has filed a complaint against the National Football League (NFL) over alleged "collusion" not to hire him.
Kaepernick parted ways with the San Francisco 49ers on March 3 and has not yet found another team, despite having posted one of his best statistical seasons last year.
Free agent Kaepernick has reportedly held pre-season talks with several NFL teams including the Tennessee Titans and the Seattle Seahawks, but has not signed a contract with any of the league's 32 squads.
The 29-year old has linked their unwillingness to hire him with the anthem controversy that has swept the league. The grievance filed by the player alleges that NFL teams colluded to keep him out of the league due to his protests last year.
Kaepernick made headlines in 2016 for kneeling during the national anthem to protest against what he viewed as racial injustice in the USA.
Kaepernick's complaint is filed under Article 17 of the NFL Collective Bargaining Agreement (CBA), which states that "no club may have a policy not to negotiate or sign contract with any player who is free to negotiate."
Kaepernick's lawyer, Mark Geragos, said in a statement released on Sunday that the player had pursued "every possible avenue with all N.F.L. teams and their executives."
The National Football League Players Association (NFLPA) said they support Kaepernick, however, they only learned of the filed grievance through media reports.
The kneeling protests continue to spark controversy in the NFL despite threats by some of the club owners to bench players who disrespect the anthem. Last week, the NFL boss Roger Goodell made it clear that the league would appreciate if the players would stand for the anthem.
His request, however, was ignored by many players who continued to kneel during the 'Star Spangled Banner' in week six of the NFL season.
Six members of the San Francisco 49ers took a knee before their encounter with the Washington Redskins on Sunday. It was the players' first game for the 49ers since US Vice President Mike Pence walked out of their match last week after more than 20 players failed to stand for the anthem.
The controversial anthem issue is expected to be discussed at this week's NFL meeting in New York.