Russian boxer Bivol gets Australian test in Monaco for WBA light heavyweight world title
Published time: 25 Sep, 2017 14:02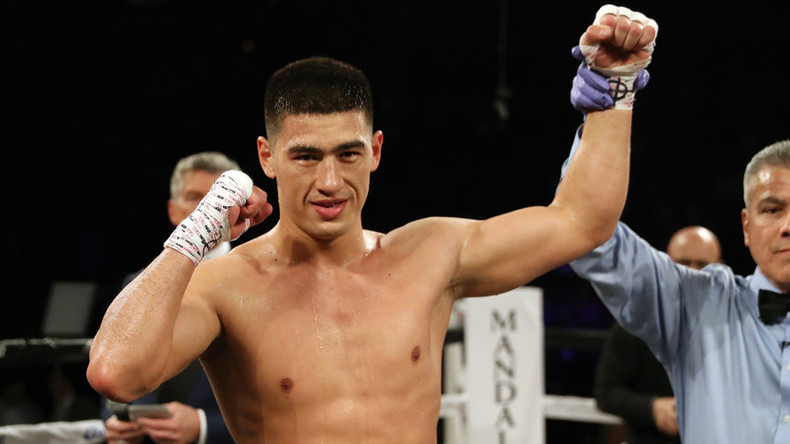 Russian boxer Dmitry Bivol will fight for the WBA (World Boxing Association) light heavyweight title against Australian Trent Broadhurst on November 4 in Monaco.
St. Petersburg's Bivol and Broadhurst will fight for the title after champion Badou Jack, who prised the belt from Welshman Nathan Cleverly on the Mayweather-McGregor undercard, vacated the title.
Bivol had become mandatory challenger to Sweden's Jack by winning and defending the WBA interim title in May last year, whereas Broadhurst holds a number 11 ranking with the WBA.
A fight between Bivol and Jack had been planned before the latter decided to relinquish the belt. It is understood that part of the deal for Jack's fight with Cleverly was that Jack would vacate the title if he was victorious.
Twenty-six-year-old Bivol is undefeated in 11 professional fights, racking up eight big wins by knockout since turning over in 2014, fighting a total four times in the US. He will enter the fight coming off the back of a fourth-round demolition of former contender Cedric Agnew in Las Vegas.
Broadhurst, 29, has never fought outside of his homeland and has a record of 20 wins and one defeat on his slate, picking up the IBF international title on the way.
Bivol's promotional company, 'Mir Boksa' (World of Boxing), said in an Instagram post that the fight will be shown live on US broadcaster HBO.
The fighter has been tipped as not only one of the brightest talents in Russia, but a future star in the pound-for-pound rankings. In a February interview with RT Sport, the fighter expressed his wish to become the best in his division and fight former champ Andre Ward, who retired undefeated this month.
"My goal is to fight the best in my division. That's what I train for. I want to fight the best. If you fight the best, you will become the best if you win. We are working towards exactly that. You can't be a boxer and not want to reach the top. You need to be motivated for that," Bivol said.
"Of course, I would like to box Andre Ward. I want to fight the very best. But I need a little more time, I have only had a few fights, Andre Ward is a very seasoned fighter who has a lot of fights, but it is my goal, which I aspire toward and this is something I want to achieve eventually."
Nicknamed 'El Terrible', Broadhurst posted to Twitter thanking his former trainer before acknowledging his future opponent's fearsome reputation.
"Bivol has become one of the most feared fighters in the world, I know this but it means nothing to me! He is human just like myself. I am working overtime and will leave no stone unturned in my quest to become world champion," he wrote.