'Are you a lesbian?' – Russian sports website to national team footballer
Published time: 20 Sep, 2017 21:25
Edited time: 23 Sep, 2017 05:33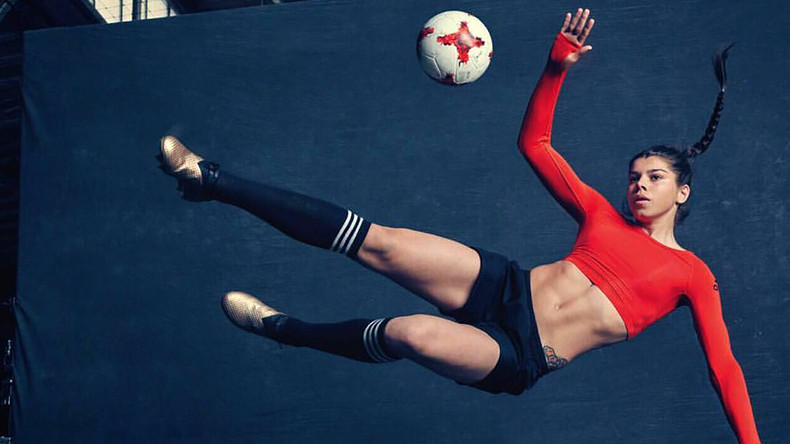 A Russian blogger has controversially asked an international women's footballer whether she is a lesbian in an interview published on a sports website.
Sports.ru is a site containing blogs and sports news.
A blog entitled "Footie, beer and potato chips" posted an interview with 22-year-old Russia forward Nadezhda Karpova, who recently signed for Spanish side Valencia.
In the course of the interview, Karpova has several questions put to her about her sex life, to which the player seems to answer awkwardly.
"As far as I know, I have never heard of you having a boyfriend," the interviewer asks, prompting a slick reply from Karpova that she doesn't wish to make this official as she is not on a reality TV show.
Undeterred by the rebuff, the interviewer persists and enquires as to whether Karpova has a boyfriend, to which she replies that she currently doesn't.
Then, bizarrely, the interviewer asks if there are lesbians in Russian football; Karpova insists she doesn't know as she doesn't spend time with anyone in football.
The interviewer promises the next question will be the last on the subject, before asking: "Are you a lesbian?"
"No. I never have been. Why is this so intriguing to everyone? What is this gimmick? In Russia they love money and personal life, or is it like this everywhere?" Karpova responds, clearly exasperated.
The blog introduces Karpova as "the main reason to follow women's football," and also asked the player whether she would go a year without football or a year without sex, repeating a question by host Dmitry Shnyakin during an interview live on Russian sports channel Match TV.
Karpova's national team took on England in a 2019 FIFA World Cup qualifying match at Prenton Park, home of Tranmere Rovers, on Tuesday evening.
However, Karpova was not included in the squad to take part.