Defender to contender: Ex-England & Man United footballer to become pro boxer at 38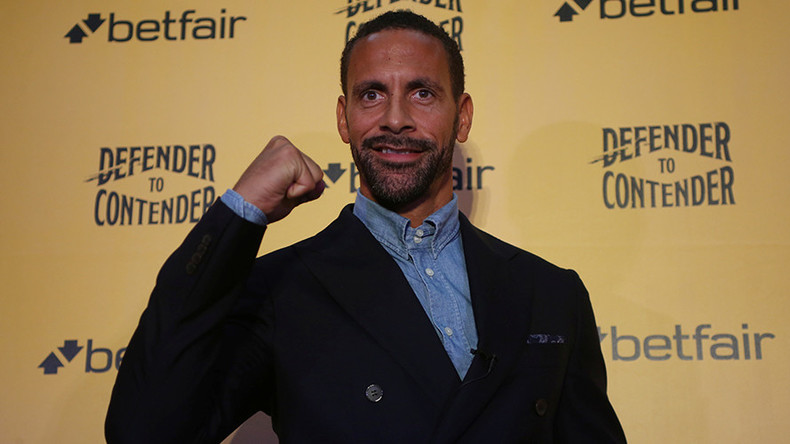 Former Manchester United and England international defender Rio Ferdinand has announced he is becoming a professional boxer at the age of 38, despite no previous ring experience.
Ferdinand won six Premier League titles and the Champions League during a 12-year spell at United, as well as making 81 appearances for his national side and was twice the most expensive defender in the world.
"I'm really looking forward to it. Both physically and mentally it's taking me to somewhere new, but I'm up for the challenge," Ferdinand said about his switch.
The move has been marketed as "Defender to Contender" by betting company BetFair and the defender will be trained by current GB coach and former WBC world champion Richie Woodhall.
"Betfair came to us and put the challenge to us and said would you fancy becoming a boxer? Would you take on that challenge? This was one that really did sit well and I thought that I want to take this on," Ferdinand said.
Since retiring, Ferdinand, who also played for West Ham and Leeds United, has suffered personal tragedy when, in 2015, his wife succumbed to breast cancer.
His struggle with grief was documented in the BBC1 program "Being Mum and Dad."
Ferdinand will look to emulate former Premier League footballer Curtis Woodhouse, who hung up his boots to become a professional boxer and became British light-welterweight champion.
He will want to fare slightly better than former England cricketer Andrew 'Freddie' Flintoff, who was knocked down on his way to winning his one and only professional fight.
Other athletes that have tried their hand in the ring include New Zealand player Sonny Bill Williams, who combined becoming WBA international heavyweight champion with an All Blacks career.
READ MORE: 2-footed tackle: Man United fans accused of racism over Lukaku penis chant