Sloane Stephens falls off her chair swatting a fly at US Open press conference (VIDEO)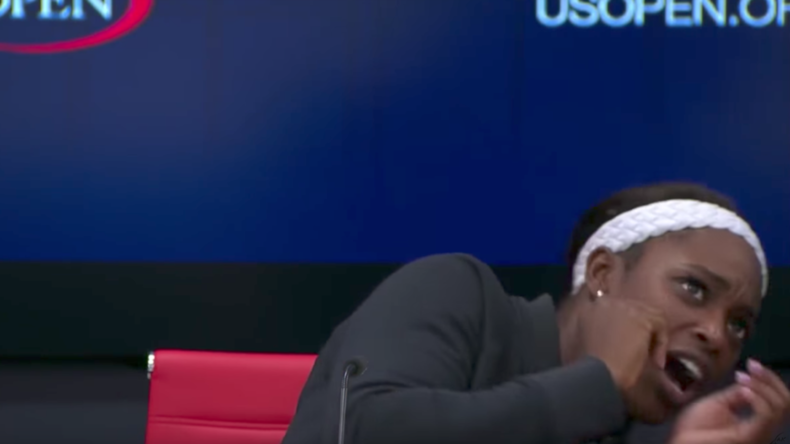 American tennis player Sloane Stephens' press conference, following her quarter-final victory over Latvian Anastasija Sevastova was disrupted by an intrusive insect.
Coming out of an 11-month recovery process following surgery on her foot, the number-83-ranked Stephens, who started training only in May, has had a great run in the on-going US Open tournament.
Beating Sevastova on Tuesday night, 6-3, 3-6, 7-6 (4) she has reached her second-ever Grand Slam semi-final, where she will now face Venus Williams.
It's interesting to note that two days prior to her match with Stephens, Sevastova knocked Russia's Maria Sharapova out of the tournament.
READ MORE: 'I can take a lot from this week' says Maria Sharapova after US Open exit
While battling her opponents on the court did not appear to be a problem for the 24-year-old Florida native, an unexpected attack by a flying insect at the press conference seemed to perturb her quite a bit.
"Oh my God, what is that that?" said the athlete falling from her chair.
"It's a fly," replied one of the reporters.
"Oh my God, looked like a dragon!" she said, still on the floor.
"That was a lot, I am so sorry," Stephens said, while getting back on the chair.
The insect, however, came back and kept attacking the tennis player, who then grabbed one of her sneakers and started battling the bug with it.
"I don't like bugs. That's so disgusting. I don't know where they came from," said Stephens, when the insect was finally gone.
The Stephens-Williams semi-final match will be hosted at the Arthur Ashe Stadium in Flushing Meadows Corona Park in Queens, New York on Friday.