'Friendly rivalry' drives Russian gymnast twins to glory at Rhythmic World Champs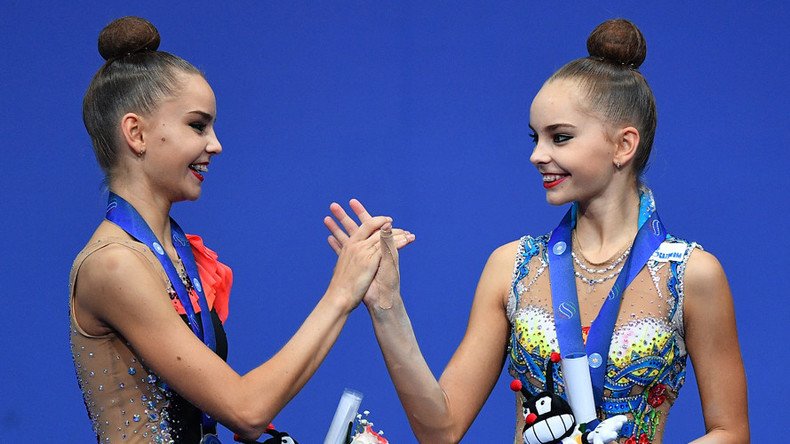 Russian identical twins Arina and Dina Averina have made the 2017 Rhythmic Gymnastics World Championships in Italy very much a family affair, claiming four gold medals between them at the event.
Arina, the elder sister by 20 minutes, claimed gold in the individual ribbon competition on Thursday, with Dina taking home silver at the event in Pesaro.
The sisters, 19, are making their World Championship debut, and also made the podium in Thursday's individual clubs event, with Dina taking gold and Arina claiming the bronze.
In the individual ball final on Wednesday, Arina came out on top while Dina was in second.
That was a reversal of the individual hoop final on the same day, in which Dina topped the podium and Arina came in second.
The twins' remarkable success was praised by Tatyana Gorbunova, vice president of the All-Russian Rhythmic Gymnastics Federation: "We always expect only gold from our athletes, but this is sports, this is a lottery, and, ultimately, they are still kids who have just made their debut on the global arena," she told TASS.
"However, the very fact that they have made no mistakes from the very start and won gold in all events, shows that they are true champions," she added.
"There is no rivalry between the girls, and even if there is an element of competition, it is a friendly one, and only benefits them."
READ MORE: Russia's synchronized swimmers continue dominance with latest gold at World Championships
The twins themselves say they feed off each other's support to drive themselves on to success.
"We are like one team," Arina told the International Gymnastics Federation website. "We provide a lot of support for one another."
Their current success is not entirely unexpected, however, as between them the twins also swept the board in the individual events at the Rhythmic World Cup in Tashkent in April and at the European Championships in Budapest in May.
The World Championships in Pesaro run until Sunday September 3, with the individual all-round final on Friday and group events over the weekend.
You can share this story on social media: