Basebrawl: Suspensions likely after mass Detroit Tigers-New York Yankees punch-up (VIDEO)
Published time: 25 Aug, 2017 15:59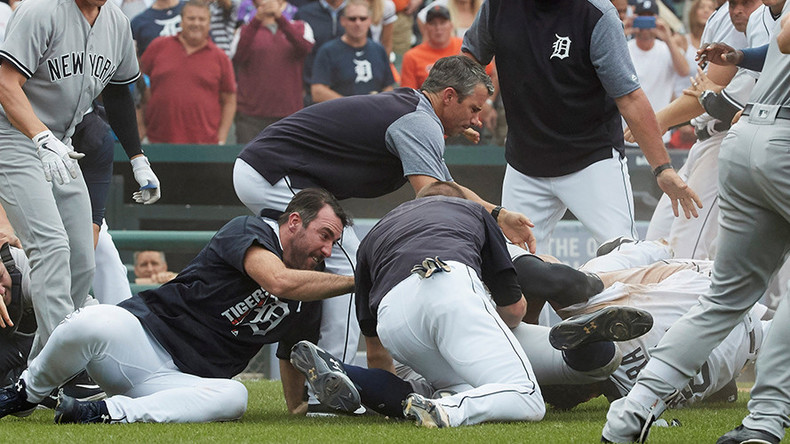 An ugly mass brawl broke out between the Detroit Tigers and New York Yankees during their game at Comerica Park on Thursday.
The bench-clearing fistfight began when Tigers star Miguel Cabrera clashed with Yankees catcher Austin Romine, first shoving him and then aiming punches. The pair took the action to the ground, with the benches then rushing to pile on.
Amid the chaos, New York's Gary Sanchez (no. 24) was seen sucker-punching Cabrera. Sanchez now faces a lengthy ban, as do a number of others, in a game that saw a total eight ejections and the benches clear three times.
Sanchez was clearly fired up after earlier taking a hit from a pitch in the fifth inning, in a game that also saw Yankees pitcher Tommy Kahnle ejected for throwing at Cabrera.
"It is hard, because everything is happening very fast," Sanchez said about the brawl, ESPN reported.
Yankees manager Joe Girardi, who was still furious after the game, defended Sanchez, saying: "It got to the heat of the moment, and boys are going to be boys in the heat of the moment."
Detroit went on to win the game 10-6.