13yo cheerleader shockingly forced into splits by coach despite pleas (DISTURBING VIDEO)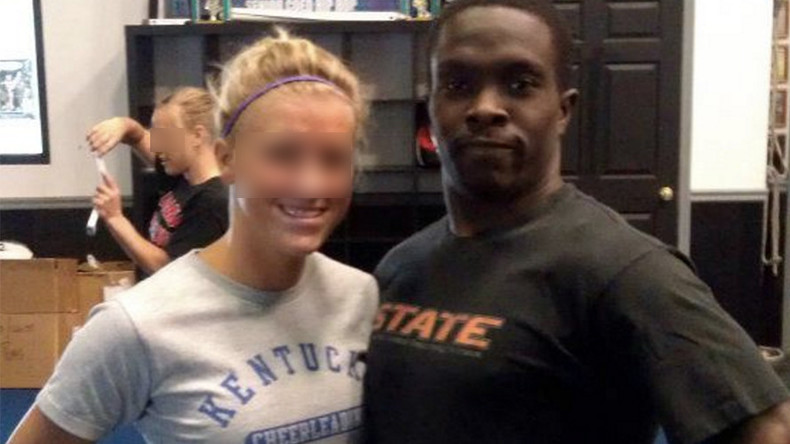 Disturbing footage has emerged of a US high school cheerleading coach forcing a 13-year-old student to perform the splits despite repeated pleas from the girl for him to stop.
The video, obtained by American news channel 9Wants to Know, shows bulky East High School, Denver, Colorado, cheerleading coach Ozell Williams forcing his weight down on the slight frame of cheerleader Ally Wakefield.
Whimpering, Wakefield begins to cry and pleads with Williams to "please, stop" nine times in less than 24 seconds on the cell phone video.
Instead, Williams pushes down further on her shoulders, increasing the apparent agony for Wakefield, whose legs are all the time being locked by teammates, who can be heard giggling.
The footage shows eight cheerleaders in total all being subjected to the same drill during the first week of a school cheerleading camp in June.
Coach Williams has garnered local celebrity status for performing backflips at games for NFL team the Denver Broncos, and has uploaded numerous videos to YouTube showcasing his flip skills, one of which has gained more than 2 million views.
He also broke a world record for tumbling in 2014 when he completed 57 consecutive back handsprings at a University of Colorado American football game, where he was a cheerleader.
This would have been his first year coaching at East High, but instead he has been placed on leave, along with the assistant cheerleading coach, the high school's principal and the assistant principal.
Wakefield's mother Kirsten sent an email querying the footage to the athletic director, Lisa Porter.
"I have attached a video of the forced splits she and her other team members were forced to do at cheerleading camp and practices; unless they had a doctor's note. This is how Ally injured her leg," the email reads.
"My husband and I would like to know what the administration is going to do about my daughter's injury and how it happened."