NHL team considers legal action over use of team logo at white supremacists rally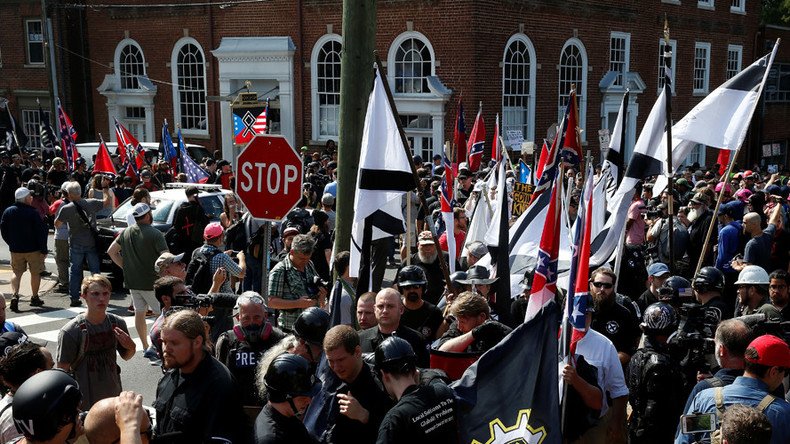 The Detroit Red Wings of the National Hockey League are considering legal action against a white supremacist group for using their team logo at a white supremacists rally taking place in Charlottesville, Virginia last weekend.
The hockey club released a statement on Saturday.

"The Detroit Red Wings vehemently disagree with and are not associated in any way with the event taking place today in Charlottesville, Va.," the Red Wings statement said.
"The Red Wings believe that Hockey is for Everyone and we celebrate the great diversity of our fan base and our nation. We are exploring every possible legal action as it pertains to the misuse of our logo in this disturbing demonstration," the club added.
The 'Unite the Right' rally in Charlottesville, Virginia last weekend saw violent clashes between white supremacists and counter-protesters.
The rally was marked by a deadly car-ramming incident, when a car plowed into a group of anti-fascist activists, killing a woman, identified as 32-year-old Heather Heyer from Ohio, and leaving 19 others injured. Two police officers were also killed as a helicopter monitoring the protests crashed in the woods near Charlottesville.
Red Wings logos were spotted on placards carried by far-right demonstrators, and reportedly were used to identify members of the Michigan-based group called the Detroit Right Wings.
The Detroit Red Wings name and logo are among of the most recognizable brands in the hockey world.
The team was founded in 1926 and was known as the Detroit Cougars until 1930, and the Detroit Falcons for the next two seasons. The 'Red Wings' name and the logo featuring a wheel with wings were accepted by the team in 1932 to reflect that the team is based in one of the centers of American automotive industry.
The team was also part the group of six teams that made up the NHL, known as the Original Six. All six teams, including the Boston Bruins, Chicago Blackhawks, Detroit Red Wings, Montreal Canadiens, New York Rangers, and the Toronto Maple Leafs are still active franchises in the league.
You can share this story on social media: