Controversial tennis ace Kyrgios hits line judge with sweaty towel (VIDEO)
Published time: 10 Aug, 2017 13:21
Edited time: 3 Aug, 2018 11:58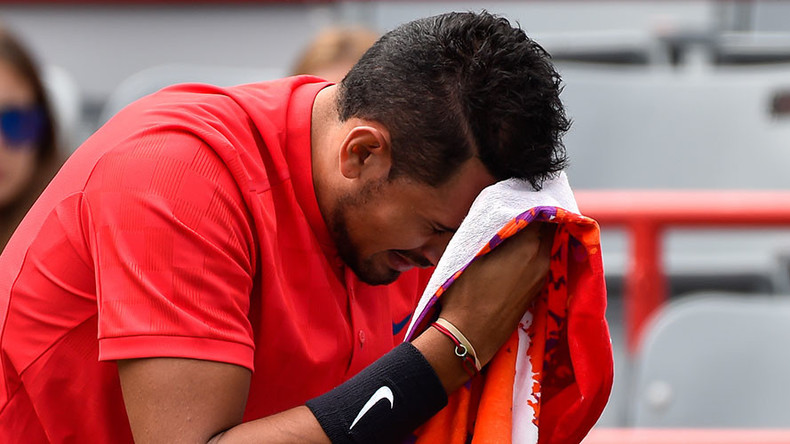 Tennis bad boy Nick Kyrgios threw a sweaty towel at a line judge at the Canadian Open after mistaking him for a ball boy.
Australian Kyrgios has a track record of being involved in heated on-court incidents, but this time the heat landed him in a more jovial predicament at the Coupe Rogers.
While serving against Italian Paolo Lorenzi in their Round of 32 match, Kyrgios took a break to wipe sweat from his brow.
Then, without looking, the 22-year-old nonchalantly tossed the towel to the line judge, believing the motionless figure on the far edge of the court to be a ball boy.
The towel hit the official, who remained unflinching, and dropped to the floor before the world number 20 realised his error, returning to apologize before a real ball boy swiftly arrived to take the towel and provide new balls.
After the match, Kyrgios replied to a tweet highlighting the gaffe, writing: "Haha real talk, that's my bad. I was sweating so much."
He added on Instagram: "Don't think the line judge was too happy."
Kyrgios has in the past courted controversy in his fledgling career, including admitting to "tanking" - slang for not playing up to his full ability - at previous tournaments.
He was most notably fined $32,900 and banned for eight weeks for the offense at the Shanghai Rolex Masters in October 2016.
READ MORE: ATP suspends Nick Kyrgios over Shanghai behavior
It was at the Canadian Open in 2015 that Kyrgios was reprimanded after microphones caught him telling Swiss player Stan Wawrinka that fellow Australian Thanasi Kokkinakis, "banged your girlfriend. Sorry to tell you that, mate."
He also received a $3,281 fine for unsportsmanlike conduct at the same tournament for a comment he made to a ball person.
Kyrgios won the match 6-2, 6-3 against world number 33 Lorenzi to progress to the quarterfinals of the tournament, where he will play Germany's Alexander Zverev on Friday.
In the women's singles, Russian player Elena Makarova beat British number one Johanna Konta to progress to the quarterfinals of the tournament, where she will play the Czech Republic's Lucie Safarova on Thursday night.