Conor McGregor lookalike takes California by storm (VIDEO)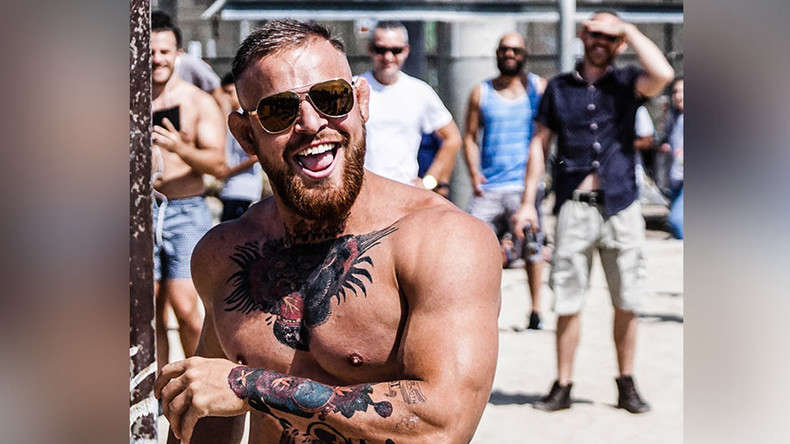 A Kazakh lookalike of Conor McGregor recently visited a popular Californian beach, much to the surprise of the locals who gladly took selfies with the video-blogging prankster, believing him to be the real Irish MMA megastar.
Islam Badurgov, a 27-year-old Astana native who does street workouts and video blogging on various social media platforms, recently visited California's famous Muscles Beach outdoor gym.
But aside from showing various exercises on the bars, Badurgov decided to grab extra attention by imitating UFC star McGregor – adding temporary tattoos identical to the Irishman's and modelling similar clothes, glasses and his walking manner to complete the image.
"Conor, this prank is dedicated to your forthcoming fight. You are an impeccable fighter, and we believe in your triumph," reads the text in the beginning of the video, referring to the upcoming boxing match-up between 'The Notorious' and Floyd Mayweather.
Although at a closer look the difference between the Irishman and the Kazakh is evident, most bypassers seemed way too overwhelmed to do a double-take.
Plus, as Badurgov admitted to Kazakhstan outlet vesti.kz, not staying longer than five minutes at any one location was part of his plan, meaning people wouldn't have time to cotton on that it was a prank.
He also revealed that it's not the last prank of this kind that he has in mind.
The second scam, according to his plan, aims to "(positively) shock people and make McGregor get in touch," with Badurgov speaking of his admiration and respect for the fighter as a great motivator and sportsman.
The story about the first prank was eventually published on McGregor's official website, The Mac Life, which means that the joker is already on his radar.
On August 26, McGregor is scheduled to fight in his first professional boxing bout against the legendary Floyd 'Money' Mayweather in Las Vegas, Nevada.
The unique bout – which is between the first UFC champion in two different weight categories and the undefeated boxing champion, with a professional record of 49 wins and no losses – has already been titled 'The Money Fight,' and is expected to be one of the most lucrative in boxing history.