'F*** you, I'm Millwall': Brave football fan takes on London attackers
Published time: 6 Jun, 2017 13:41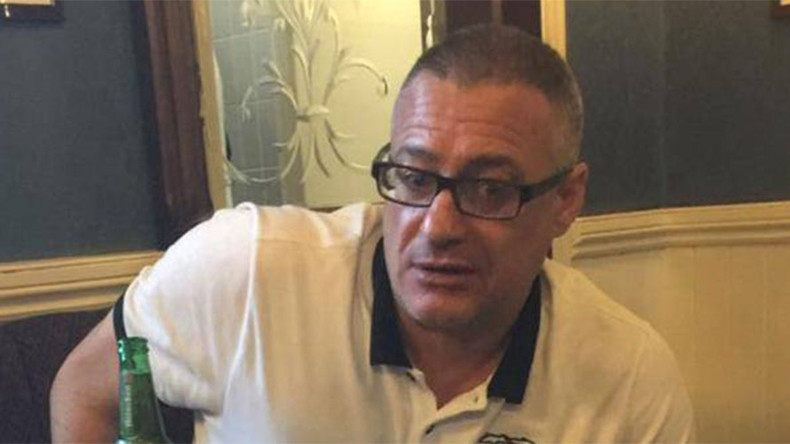 A brave football fan shouted "f*** you, I'm Millwall" as he gallantly attempted to fend off terrorists at a restaurant in London's Borough Market during Saturday's attack in the city that claimed the lives of seven people.
Millwall fan Roy Larner, 47, received horrific stab wounds while trying to fight off three knifemen as they burst into the Black & Blue restaurant intent on attacking revellers, earning him the nickname "The Lion of London Bridge" – a nod to his bravery and also the nickname of his club.
Larner, from Peckham, southeast London, is currently recuperating in St. Thomas's hospital intensive care unit in central London, where he recounted to British newspaper the Sun the moment the group smashed the doors of the eatery and began their horrific attack.
"They had these long knives and started shouting about Allah. Then it was, 'Islam, Islam, Islam'," Larner said.
"Like an idiot, I shouted back at them. I thought, 'I need to take the p* out of these b******s'. I took a few steps towards them and said, 'F* you, I'm Millwall'. So they started attacking me.
"I stood in front of them trying to fight them off. Everyone else ran to the back. I was on my own against all three of them, that's why I got hurt so much.
"They were saying, 'Islam, Islam!'. I said again, 'F*** you, I'm Millwall!' It was the worst thing I could have done as they carried on attacking me."
The terrorists then left to attack neighboring pubs before police marksmen shot the group dead.
In taking on the murderers with his bare hands, Larner was stabbed and sliced eight times in the back of the head, the chest and both hands.
Friends visited him in the hospital with an issue of sports magazine 'Runner's World' entitled 'Learn to Run.'
A Just Giving page established to raise money for Larner has so far collected £10,990 ($14,180), surpassing its initial target of £500 ($645).
One of those to visit Larner in hospital was Mick Church, who paid tribute to "a true brave Millwall man through and through who helped so many Saturday now needs help himself" in the comments on the fundraising page.
"I visited Roy today in intensive care. He has lost his glasses and his hands are bandaged up past his elbows," he wrote.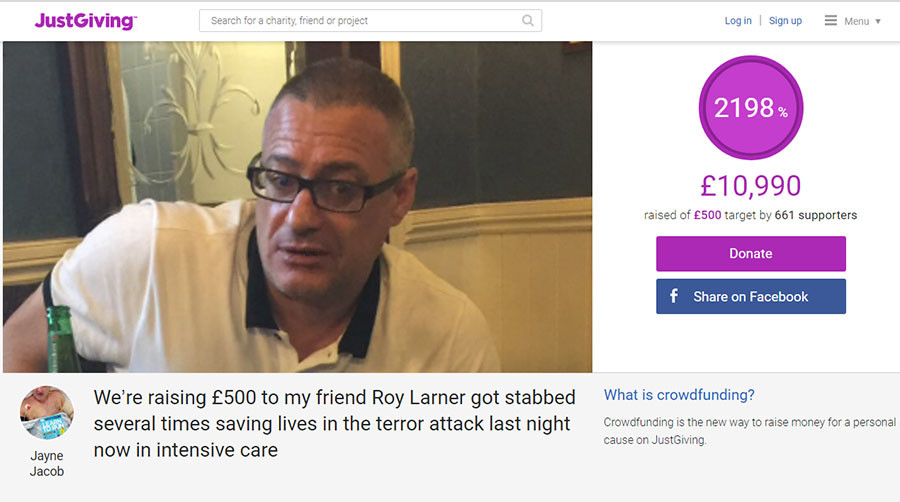 "He has 2 10 inch scars on the side of his face and neck and his lung collapsed. Watching him trying to see the mobile phone and use it to answer the call from his daughter was pitiful but we both laughed at the futility of his struggle."
Wellwishers left messages of praise and support on the page, which was set up by Jayne Jacob who wrote: "I have been overwhelmed with the support & love for this brave man. All the best to everyone."
"What a true Gent, as a South East Londoner myself I take great comfort in knowing that people like you are on the streets, I wish you a speedy recovery and I too would Love to shake your hand if our paths ever cross," Katy Moss wrote.
Professional boxer Johnny Garton, a friend of Larner's, tweeted: "Sad to hear the news that a friend of mine Roy Larner was stabbed a number of times in last nights attack Hope you make a full recovery mate."
A petition has also been set up to award Larner the George Cross, the highest civilian award for "acts of the greatest heroism and bravery in circumstances of extreme danger."
The appeal has gained 2,867 signatures from its 5,000 target so far.