Nothing to get cross about: Cameroon weightlifter makes Christian sign at Islamic Games (VIDEO)
Published time: 17 May, 2017 13:46
Edited time: 17 May, 2017 13:49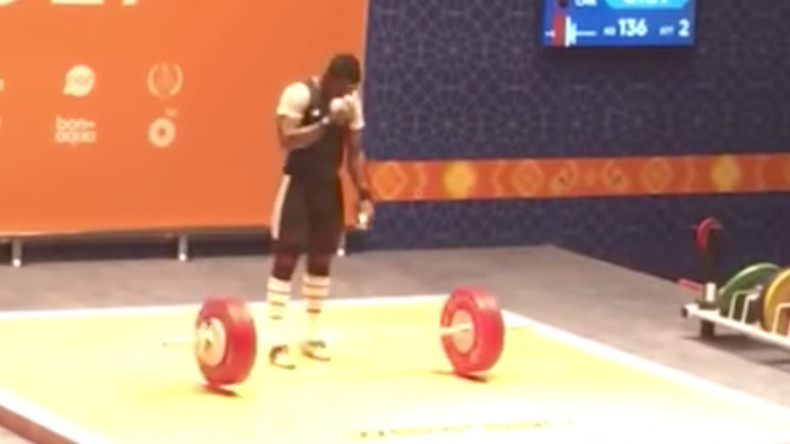 Weightlifter Donald Keyimeh of Cameroon made a religious sign after finishing his successful lift at the Islamic Solidarity Games in Baku, Azerbaijan – although it wasn't exactly one that followed Muslim tradition, as many might have expected.
Competing in the 85kg category, Keyimeh, 22, made the sign of the cross right after he dropped the barbell, as can be seen in the video below.
Although representing Cameroon at the Islamic Games, Keyimeh himself is a Catholic.
He told RT Sport that his religious act "didn't lead to any sort of reaction among fellow athletes and event organizers."
The athlete, who eventually finished sixth at the event, also said that it was his first time competing internationally and that he is enjoying the atmosphere at the ongoing event in Baku.
The Islamic Solidarity Games, or Islamiada, is a multi-sport event attended by 57 member states of Organisation of Islamic Cooperation (OIC).
The OIC is the second-largest intergovernmental organization after the United Nations, and has a membership spread over four continents. According to the organization's website, it endeavors to safeguard and protect the interests of Muslims in the spirit of promoting international peace and harmony among the various people of the world.
The event in the Azeri capital, which is taking place from May 12 to May 22, is indicated as the fourth Islamiada, although in fact the games have happened only twice before. The second event, which was scheduled to take place in Iranian capital Tehran in 2010, was canceled due to a dispute between the host country and Saudi Arabia.