The Spartak Story: How a forlorn club ended its title drought with first championship since 2001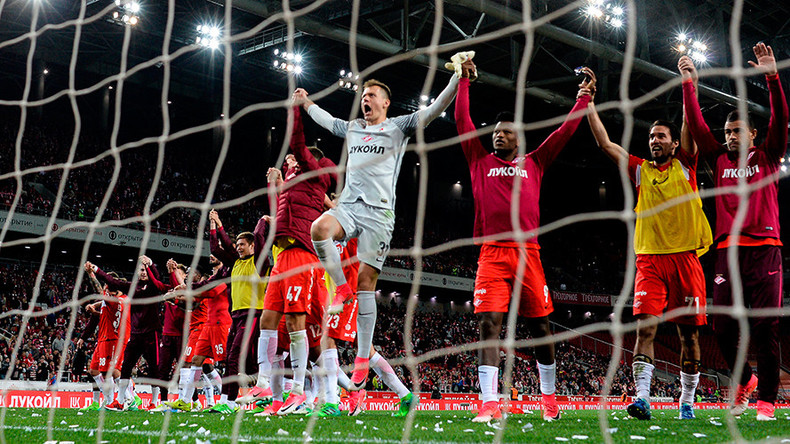 Spartak Moscow clinched the Russian Football Premier League (RFPL) title last weekend, finally ending a 16-year championship drought.
Spartak's 1-0 win against bottom side FC Tom Tomsk on Saturday moved 'The People's Club' 10 points clear of city rivals CSKA at the top of the RFPL with three games left to play.
It also meant that third-placed Zenit St. Petersburg – 11 points behind but with a game in hand – were the only team capable of mathematically ending Spartak's title charge.
But Zenit 's 1-0 home defeat at the hands of Terek Grozny late on Sunday afternoon finally made that 10-point lead unassailable.
The victory is Spartak's 10th Russian title win - a domestic record. Before the fall of the USSR, they had also accumulated 12 Soviet championships.
However, despite their unprecedented success, Sunday marked the Red-whites' first championship since iconic manager Oleg Romantsev led the team to the title in 2001. It is also their first piece of silverware since a Russian Cup success in 2003.
The triumph hands Spartak an automatic place in next season's UEFA Champions League - a long-awaited return for the club to Europe's premier football competition. Spartak's previous forays into Europe have seen them conquer giants such as Liverpool and Real Madrid, and also qualify from the competition's 1995/96 group stage unbeaten.
At the beginning of the current season it looked as though Spartak would be forced to wait another long year to break their title jinx. Their abjectly mediocre league performances from the previous season - when they finished fifth - seemed to have carried over.
Another European romance seemed ever distant, too. A late 1-0 defeat at home to Cypriot minnows AEK Larnaca saw Spartak crash out of the Europa League at the qualification stage. The defeat proved too much for besieged manager Dmitry Alenichev, a four-time Russian Premier League winner with Spartak in the 1990s, who saw his status as club legend diminishing under the strain of his faltering tenure as boss.
Alenichev resigned after that game, being replaced by his assistant Massimo Carrera, who learnt his trade as number two to current Chelsea manager Antonio Conte at Juventus and later the Italian national team.
Although in his maiden position as head coach, Carrera brought charisma and animation to Spartak, often attending post-match press conferences drenched in sweat due to his constant prowling of the touchline during games. His commitment eventually galvanized the squad, instilling a belief in his players that they were good enough to reign supreme in Russia.
As the team's performances lifted, the Spartak supporters responded. Their home ground Otkrytie Arena - which will be renamed Spartak Stadium in time to host matches at the 2018 World Cup in Russia next summer - became a fortress, a bubbling cauldron of support led by their 'Fratria' ultras group.
One year ago, the group's leader, Pavel, said: "Our younger generation have grown used to Spartak not occupying top spot, it's sometimes third, fourth, maybe even fifth or eighth – they don't know what success is."
Despite Spartak being the most decorated club in Russian football, an entire generation had only known tales of success handed down from older fans.
The supporters' cravings for success were clear throughout the season, and often their banners and performances made headlines across Russia.
In the derby match against Lokomotiv at Lokomotiv Stadium in March, a banner was unfurled in the Spartak end with the words "BBC - Blah Blah Channel" in reference to the BBC documentary "Russia's Hooligan Army."
It was followed by a further banner with the hashtag "Welcome To Russia 2018 Bolelshiki Bolshoi Straniy," which translates as 'supporters of a big country.'
Read more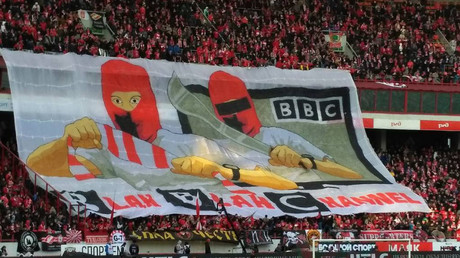 The messages emblazoned on banners would provide a narration of developments in the league for Spartak's most critical games. In particular, during two vital games against two of their biggest rivals. When Zenit visited Moscow, Spartak fans welcomed them with a menacing gaze over Moscow from inside a hooded top with the caption "... A capital of full superiority."
That message set a precedent for the match, the latest meeting of two sides between which love is seldom lost.
When Spartak's Dutch forward Quincy Promes sliced a shot into the bottom corner on 21 minutes, he sent the already buoyant home crowd into raptures. That joy was cut short by a leveller in the second half from Artem Dzyuba, who played over 100 matches for Spartak before moving north of the capital.
But Spartak were not to be denied. In the 80th minute, Aleksandr Samedov slid his effort past Andrey Lunyov to make it 2-1 and Spartak held out for the win and a vital three points, a fitting way to celebrate their 95th anniversary just two days later.
READ MORE: Russian Premier League leaders Spartak Moscow celebrate 95th anniversary
The gap at the top was now 10 points and the pursuit of the title seemingly a one-horse race. That was until Spartak's next game away to Rostov. A 3-0 defeat and a red card for captain Denis Glushakov sent a shockwave through the league and delivered hope to Spartak's closest rivals.
It was hardly the 53rd birthday present Carrera had wished for.
After a razor-thin 1-0 win over FC Ural, Spartak had a chance to restore their lead at the top the hard way - away to their fiercest rivals and defending RFPL champions CSKA Moscow.
Before the game, both sets of fans goaded each other. CSKA supporters nestled behind the goal hoisted up an image of the club badge with the message "CSKA are above and beyond all". Spartak fans gathered in the opposing stand replied with "We have come for the gold," accompanied by a cartoon thief, in reference to their plan to snatch the championship from their rivals.
A 2-1 win sealed by a goal from Glushakov won the three points for Spartak, and all but determined which corner of Moscow the championship would call home for the next year.
The victory left Spartak needing just four more points from a possible 12 to win the title. Three of those were accumulated with a routine 1-0 home victory over bottom of the league Tom Tomsk. One point from nine seemed even more likely.
READ MORE: CSKA 1-2 Spartak - Moscow derby sees Spartak edge closer to 1st league title in 16 yrs
In the end, no Spartak player clinched the title. Instead, a 65th-minute strike from Ablaye Mbengue for Terek Grozny to make it 1-0 at St. Petersburg Stadium against Zenit on Sunday night was enough to hand them the title.
Irony has a funny habit of appearing when it's least expected.
The atmosphere outside Otkritie Arena following the news that Spartak had been handed their first league title in well over a decade was one of cathartic joy. Fans who have waited 16 years – for some sitting aloft the shoulders of older fans more than their whole lives – to see their team win the title. They had endured years of abject mediocrity.
At the beginning of the season, Spartak was a club enveloped by apathy. But since Massimo Carrera galvanized the squad from August, they had begun to believe.
Fans celebrated being rewarded for their belief with firecrackers, flares and flags - and an inebriated captain Denis Glushakov dancing on cars with fans.
"Who are we? We are champions! God save Spartak. Give it strength. So they are victorious.... I love you all and congratulate you on the title!" he screamed, halfway up a fence and clinging on to a guitar in one hand and clutching a glass of a "wonder drink" from his Millerovo hometown in the other.
His words echoed the sentiments of the Spartak faithful. It was the realization of a 16-year ambition.