Next Usain Bolt? Introducing 12-year-old sprint sensation Brianna Lyston
Published time: 4 Apr, 2017 12:47
Edited time: 4 Apr, 2017 13:40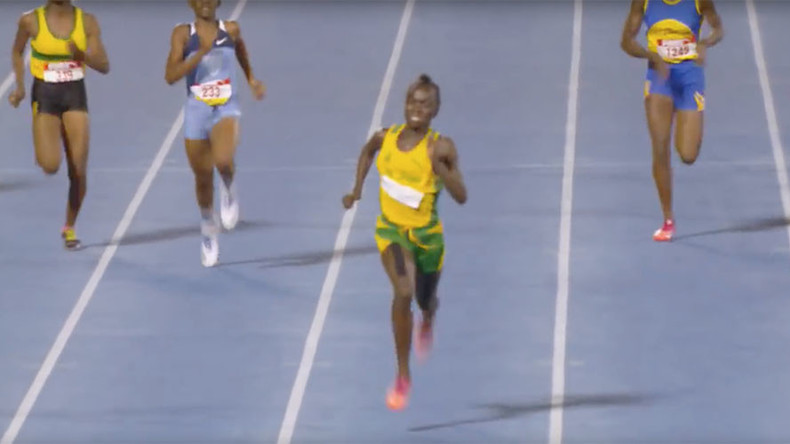 Twelve-year-old runner Brianna Lyston sent shockwaves around the sprint world over the weekend by smashing records in the ISSA/Grace Kennedy Boys and Girls Championships 2017 in Jamaica.
Representing St. Jago High School, Lyston set new U13s records in both the 100m and 200m events at the championships in Kingston, the capital of the Caribbean island.
Comparisons are being drawn between Lyston and her blistering compatriot – eight-time Olympic Champion Usain Bolt.
And it's easy to see why: in the Class 4 Girls 200m final, Lyston ran an incredible 23.72 to cruise home in a style similar to Bolt, famous for his relaxed canter across the finishing line.
Lyston's run was also the first time a Class 4 girl has run sub-24 seconds legally. She had run 23.46 in the semi-final, but unfortunately the run was deemed not to be wind legal.
Nevertheless, that time was 1.78 seconds ahead of second and only a little over two seconds behind the senior women's world record of 21.34 seconds held by Florence Griffith-Joyner of the United States.
In the Class 4 Girls 100m final, Lyston again scorched home with a time of 11.86 seconds. That's just 1.37 seconds behind the women's world record, set by Griffith-Joyner at the age of 28.
Bolt, 30, currently holds the 100m world record of 9.58 seconds and the 200m world record of 19.19 seconds.
Chicken nugget-lover Bolt is set to end his unprecedented career and retire from athletics after the 2017 track and field world championships in London.
Time will only tell if Lyston has what it takes to be the heir to Bolt's throne, but on her recent performances, she isn't too far behind the fastest man on the planet.