Feared Golovkin primed for biggest test of boxing career against Brooklyn native Daniel Jacobs
Published time: 18 Mar, 2017 14:10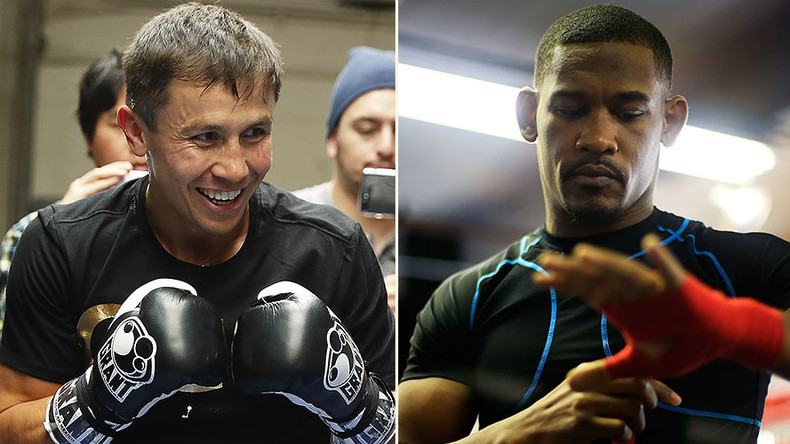 Kazakh world champion boxer Gennady 'Triple G' Golovkin will face the biggest test of his professional career in a fight against American Daniel Jacobs for the unified middleweight world championship at Madison Square Garden on Saturday night.
Golovkin's WBC and IBF belts and Jacobs' WBA Super belt will be on the line on Saturday night in a fight between middleweight boxers who many consider No. 1 and No. 2 in the world in their class. With a 23-knockout streak dating back to 2008, Golovkin has become famous for his scintillating power and is widely recognized as the best middleweight of his generation.
Jacob, who is riding an 11-knockout streak, will be defending the world title he won in 2014. His backstory is engaging. The native New Yorker was born in Brooklyn and raised by his mother and grandmother in the same Brownsville neighborhood as heavyweight boxing legend Mike Tyson. He was a standout US amateur before turning pro in 2007.
Jacobs believes his opponent is capable of generating the same fear factor that fearsome 'Iron Mike' Tyson imposed on his opponents during his fearsome reign as heavyweight king, although he is does not feel intimated himself.
"We've seen that a lot in Mike Tyson fights," the 30-year-old told journalists ahead of the bout, adding "a guy was previously a totally different fighter, and when he stepped in there with Mike, you could see he was a little nervous, a little fidgety, and he didn't give his best performance."
"I'm not going to be intimidated by him," he stressed.
Jacobs' first crack at the middleweight world championship came in 2010 against Russian Dmitry Pirog in Las Vegas for the WBO title. The run up to the fight was marred by a personal loss for Jacobs, whose grandmother Cordelia 'Ladybird' Jacobs died the week before.
He fought nevertheless, but his championship quest ended in defeat after Pirog knocked him out in five rounds.
Jacobs' personal life was dealt another cruel blow one year later when he was diagnosed with osteosarcoma, a life-threatening form of bone cancer. Although it seemed his career was dead, he was successfully treated and returned to the ring in 2011.
"Golovkin is not cancer. This is not a life-threatening situation. This is a man coming to inflict some harm to me," Jacobs said.
"Where the cancer and going through all my ordeals helped was strengthening my mental capacity and allowing myself to, once again, have my back against the wall and having everyone doubt me," he added.
Since his successful recovery, Jacobs has put together a ten-fight winning streak that saw him win the WBA middleweight championship against Jarrod Fletcher in five rounds before a career-defining defense against Peter Quillin, when he knocked out the former champion in just 85 seconds.
His battles in and out of the ring have earned him the name 'Miracle Man', but he may need another small miracle on Saturday to win against arguably the most feared man in boxing – Kazakh nightmare Gennady 'GGG' Golovkin.
Golovkin, 34, carries an aura of invincibility that has come as a byproduct of his 36-0 record in the pro ranks after a standout career as an amateur that included a silver medal in the 2004 Athens Olympic Games.
Since turning professional, Golovkin has claimed 33 victories by knockout, and no championship opponent has taken him the full 12 rounds.
"I hope Daniel, he's ready. I hope he had his best training camp. I'm very excited. Everybody ready. Just a couple days for amazing for dramatic show," Golovkin said at the final press conference in New York, in his usual calm, laconic manner.
"This is biggest chance for us, I think, for me and for Daniel, to just show boxing class. World boxing class. A big present to people, to fans – this is very important," he stressed.
Meanwhile, Jacobs told reporters at the conference, "I have a chance to become champion. The undisputed middleweight champion. You guys don't even understand the mentality that I have."
"I'm so focused, I'm so ready. I want it," he stressed.