'Everything went wonderfully well': Man Utd's Mourinho praises 'super comfortable' Russian welcome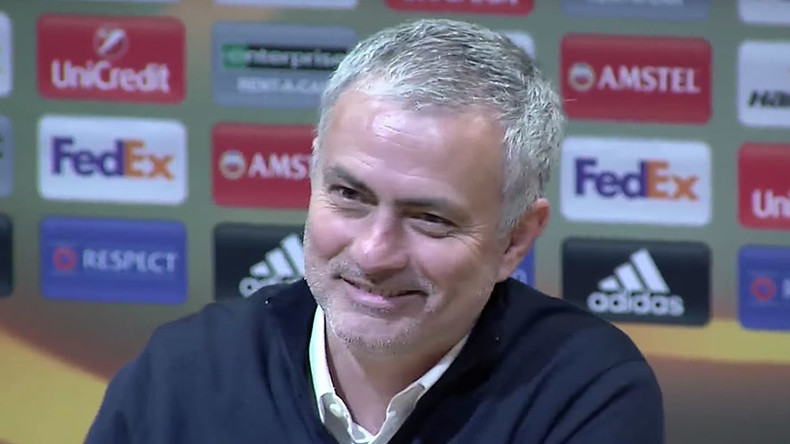 Manchester United manager Jose Mourinho has praised the welcoming nature of Russian fans during his side's recent Europa League round of 16 trip to FC Rostov.
Mourinho was speaking following his side's 1-0 defeat of Rostov in the return leg of the tie at Old Trafford, courtesy of a 71st minute strike from Spanish winger Juan Mata.
READ MORE: Man United 1-0 (2-1) FC Rostov - Russian fairytale ends at Old Trafford
The win saw United progress to the quarter-final stage 2-1 on aggregate following a 1-1 draw in Russia in the first match.
"My view is that everything went wonderfully well in Russia – apart [from] the pitch, but the club was so nice to us, the people around the hotel and the airport were so nice to us," Mourinho told a Russian journalist in the post-match press conference.
"I think the same with our supporters in the stadium and never felt anything but feel safe and feel super comfortable. I couldn't smell any kind of problem," he added.
Rostov were one of the surprise packages in Europe this season. The south Russian side had already beaten Bayern Munich and Ajax at home before holding 20-time champions of England Man United to a draw.
During the first leg, traveling fans were presented with a welcome gift by Rostov supporters at the Olimp-2 stadium in the form of blankets with the message "Gentlefan Russian Warm Welcome," and featuring the date of the game and the names of the two teams.
READ MORE: 'Treated us like rock stars!' Man United awed by Russian fans welcoming British with blankets
After that match, Mourinho was handed a blanket by a reporter and was asked to give his view on Russian football fans.
"I think everything was magnificent. People was nice to us since we landed. Obviously in the game they support their team but they did it like it should be done," Mourinho replied.
You can share this story on social media: