Battle royal: Late kick by MMA fighter sparks mass brawl in Russia's Dagestan (VIDEO)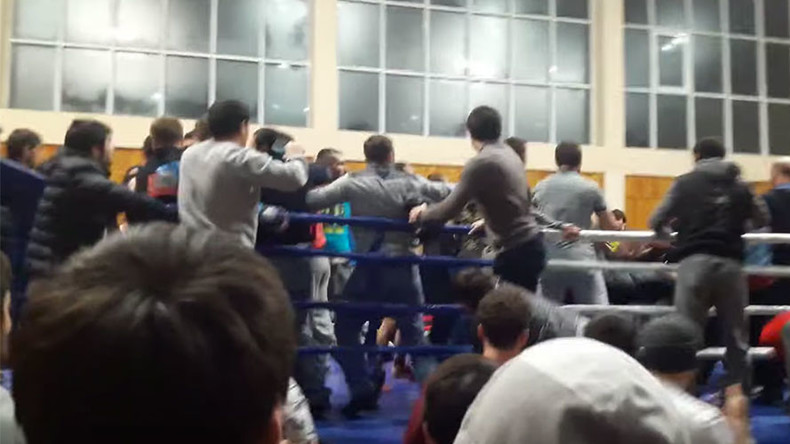 Spectators got a chance to participate in the action during Amateur Mixed Martial Arts Championship in Russia's southern republic of Dagestan, as an after-the-bell conflict grew into a free-for-all fight. The instigator of the brawl was disqualified.
Vladimir Mineev, a rising 27-year-old MMA fighter, entered the championships of the southern Russian republic, famous for its combat sport traditions, to "match his strength against local fighters and gain invaluable experience," he said on his Instagram.
The Saturday night fight was an experience, though not perhaps so much inside the ring.
At the end of the showdown against local club fighter Aziz Djamuniyazov, the two opponents appeared to hold on to each other a few seconds after the bell was heard – with the Dagestani fighter later telling the media that Mineev continued to choke him after the gong sounded. As Djamuniyazov walked away from Mineev, he suddenly kicked backward at the prone fighter, without looking. After a pause of about a second, as Mineev rose to his feet, he assessed the situation, and started punching the local fighter in the head.
At this point all hell broke loose, with members of the two fighters' teams and seemingly random spectators streaming into the ring from all sides, until the ring became a heaving mass of about three dozen bodies. Not everyone was perpetuating the violence: the two fighters were separated, and pushed into two different corners.
While two recordings of the incident exist, one from below, another from above, both cut out before the winner of the no-rules contest is declared. Organizers say that there were no casualties.
The video immediately went viral, producing condemnation from Russia's MMA federation, which chose to disqualify Djamuniyazov for his sneaky kick, and to annul the results of the contest.
Mineev has posted an Instagram photo of the two MMA fighters shaking hands after the brawl, saying that the two "had drawn a line under the matter," and insisting that his "attitude to his second home of Dagestan had not changed."
"It's been a great and memorable day!" summed up Mineev.