Russian biathletes sing anthem a cappella after blooper at world cup (VIDEO)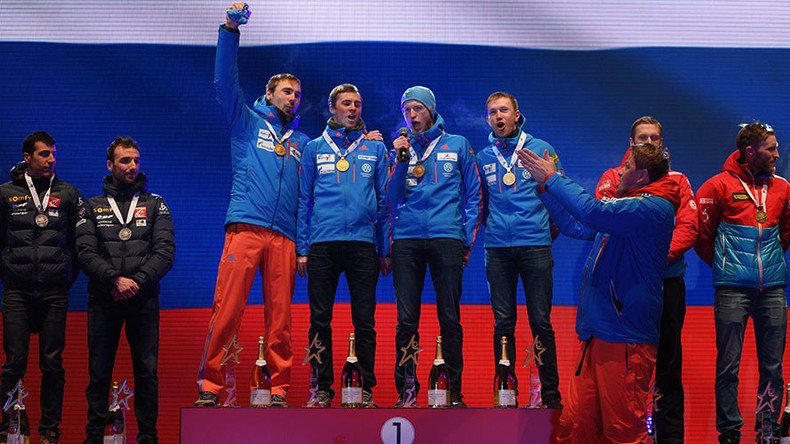 Russian athletes, who won gold at the biathlon world championships in Hochfilzen, Austria, had mixed feelings when the wrong version of the Russian anthem started playing. Taking matters into their own hands, they sang the right version a cappella.
Several seconds into the song, the Russian biathlon team – Anton Shipulin, Aleksey Volkov, Maxim Tsvetkov, and Anton Babikov – realized that something was not quite right. The festive song coming through the speakers was Mikhail Glinka's 'Patrioticheskaya Pesnya' (A Patriotic Song) written in 1833. The piece, traditionally performed without lyrics, was only used as the Russian national anthem from 1999 to 2001, until Russian President Vladimir Putin reinstated, by popular request, the Soviet-era melody by Alexander Aleksandrov.
Glinka's old anthem had played for about 30 seconds, with scores of Russian fans booing and whistling, annoyed by the organizers' gaffe.
Russian sports commentator Dmitry Guberniev then took to the stage and gave the microphone to the four Russian champions, who sang the entire Russian anthem a cappella, encouraged by crowds of teammates and fans in Austria.
The organizers, who apologized for the blooper, saying it was a mistake in good faith, finally played the right tune.
The Russian team won the gold medal in the men's 4x7.5km relay at the IBU World Championships for the first time in nine years on Saturday.
READ MORE: From hiccups to slip-ups: A rundown of the biggest national anthem fails (VIDEOS)
France came second, and Austria claimed third place.
The Russian anthem slip-up was nothing, however, compared to the faux pas at the Fed Cup tennis tournament in Hawaii last Saturday, when part of the German national anthem from the Nazi era was sung, leaving the US Tennis Association red-faced. The offensive first stanza, used during the notorious Nazi era and banned in Germany since the end of World War II, was sung during the opening ceremony of the quarterfinal match between Alison Riske of the US and Andrea Petkovic of Germany, with the latter describing it as "the worst thing that has ever happened to me."
You can share this story on social media: