Ellen DeGeneres flies 8yo American soccer fan to watch Man City for dream birthday wish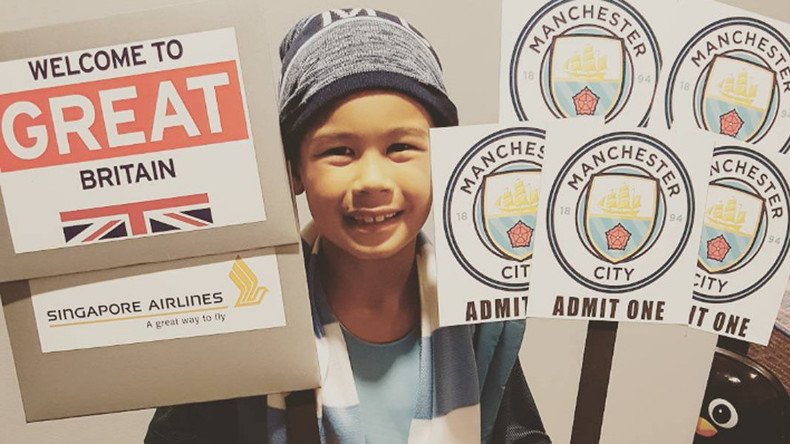 This is the touching moment an 8-year-old boy serenaded talk show host Ellen DeGeneres and was rewarded with a trip to England to watch his heroes Manchester City play.
Miniature lothario Kai, from Texas, was making the latest in several appearance on long-running The Ellen DeGeneres Show, on American channel CBS.
Kai shot to fame in 2013 when a home video of him singing along to Bruno Mars' hit 'Grenade' went viral, prompting Ellen to invite him on to the show.
The youngster appeared on the show again and presented Ellen with matching bracelets that were intended as a memento he said would ensure Ellen "would always remember" him and then again to perform a Katy Perry song.
Kai's most recent appearance saw him come on the show to wish Ellen a Happy Valentine's Day and presented her with a card emblazoned with a heart and his school picture.
"It says what I love about you, that you're beautiful and you're the best and you're my first girlfriend and I love you," Kai said of the card.
Ellen then quizzes the pint-sized singer about a recent eighth birthday, which he celebrated by playing soccer in a US national team jersey, and about his birthday present wish list which included a five-year-old brother, before Kai announces he will sing another song.
This time, he chose to serenade his sweetheart Ellen with a cover of Brit musician Ed Sheeran's track 'Thinking Out Loud.'
As Kai groves away to the number, the audience suddenly go wild – only they aren't cheering at Kai's singing. Sheeran himself emerges from backstage to creep up and surprise the young star in the making.
"Can't believe I really sang an Ed Sheeran song with him being right behind me and not knowing it! He is so cool! Thanks...Ellen for the nice surprise!" he said on his Instagram account.
But the surprises didn't stop there - another of Kai's wishes was to travel to England to watch his Premier League heroes Manchester City play a match.
"By dad says it's way too much money so I can only go when I'm 16," said Kai.
Soccer-mad Kai, who describes the game as his "passion," received an honorary playing contract from Major League Soccer (MLS) team LA Galaxy.
Ellen then announced that "thanks to the City of Manchester" Kai would be flying nonstop from Houston to Manchester to watch his heroes play.
"I can't believe I'm going to England to see a Premier League Manchester City soccer game! Thank you Ellen DeGeneres for making ALL my dreams come true! I love you! #soblessed," Kai posted on his Instagram account.
You can share this story on social media: