Football fight factory: Russian MMA promotion M-1 Global to host unique combat tournament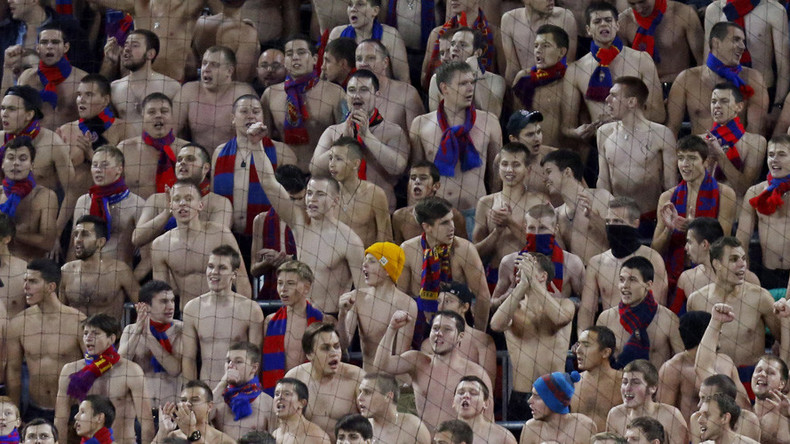 M-1 Global is the oldest active MMA promotion in Russia, and has pioneered many different aspects of the sport throughout its history. Continuing this tradition, it will host a show featuring a fight between two fans of rival football clubs.
The M-1 Challenge 74 event in St. Petersburg on February 18 will be headlined by a bout between Germany's Stephan Puetz (15 wins, 2 losses) and Russia's Rashid Yusupov (7 wins, 0 losses) along with a card stacked with well-established professionals.
But what has attracted fan and media attention most is a fight long before the main event.
Artur Tyulparov and Dmitry Tebekin will meet in a light heavyweight clash that carries added intensity, as the pair will represent the colors of Moscow teams FC Spartak and FC CSKA respectively – the two clubs that contest the fiercest football rivalry in Russia.
In addition to preparing to host the 2017 Confederations Cup this summer and the 2018 FIFA World Cup next year, Russia is also combating football hooliganism in stadiums and cities.
READ MORE: 'Football thugs to be barred from Russia during 2018 World Cup' – Deputy PM Mutko
M-1 sees its initiative as a possible step to help the country in its campaign.
"We came up with the whole concept. It's a social project," M-1 Global President Vadim Finkelstein told RT Sport in Moscow.
"Although we have a lot of pro fighters that are looking to compete, we provide the same opportunity to football fans. Some might ask 'why?' – well, because there are a lot of strong young guys out there that have no way of channeling their energy.
"So we are setting an example to them of 'look, go to the gym, compete as a pro, make some money, don't fight in the street.' If you are really tough, really strong, start your career, make a living out of it. Don't go looking for trouble. That's why we see it as a good example for these kids.
"We are also looking to develop this concept internationally. I would be happy to sign fighters from England, the Czech Republic and Spain and give everyone the same chance. We want people to get involved in sports – that's the idea."
Finkelstein points to fighter Sergey Romanov (10-1) as an example of how a life can be turned around to achieve positive things through the promotion.
"Sergey Romanov came from that kind of street fighting background and now look at him: he is one of the most promising prospects we have. He isn't just some thug that will end up in jail but he provides for his family through fighting. He can set an example for youngsters that are caught up in that kind of street culture that they can move this violence from the streets and stadiums."
Dmitry Tebekin, 26, who admits he is more of a professional fighter than a football fan and was invited to represent CSKA by friends some time ago, says that the concept might have potential if the first fight is successful: "We'll see what kind of reaction we get after that first fight. If people like that idea, then it might become a mainstay of the promotion."
His opponent Tyulparov, 29, agrees that a possible move to professional MMA is a positive thing for the younger generation of football fans.
"Yes, young fans now have this opportunity. We didn't have that back in our day," he said.
"But older people like me have their lives set mostly – have a good job, or businesses. I am more of an exception, I'd say. Although I am not looking to become a pro, I just want to have few more wins on my record, and then move into business. I had enough fights as a football fan already (laughs)."
The fight has extra significance for Tyulparov, who reveals that – unlike his opponent who is more interested in fighting than football – he has been a diehard Spartak supporter for decades.
"It all started in the '90s, the fan culture in Russia was really violent back then. Then fan violence moved from the stadiums to the outskirts of the cities in the 2000s. Then it moved from the cities to the forests. Now police totally block any fights between the fans wherever they happen.
"So I guess professional sport might be the last resort for those fans who want to fight. If there is no other way to do that then why would I risk going to prison?"
You can share this story on social media: