Super Bowl-winning pair to snub Trump's White House invite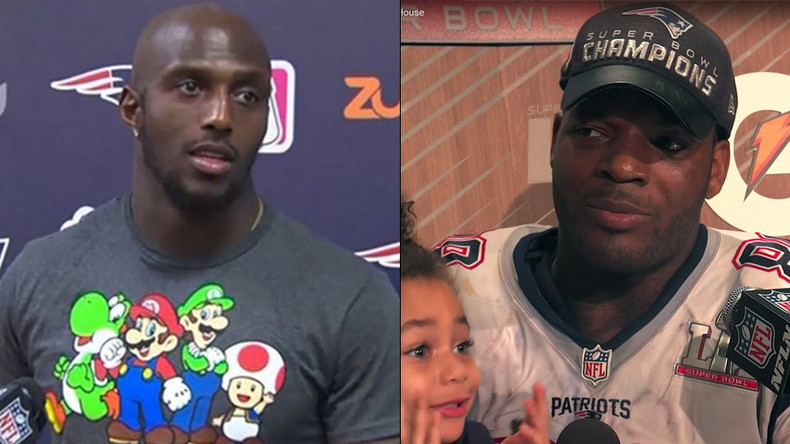 Two members of the New England Patriots Super Bowl 51 winning team have announced they will snub an invite to meet President Donald Trump in the White House.
Defensive back Devin McCourty and tight end Martellus Bennett have both announced they plan to turn down the visit – which is considered one of the perks of winning the Super Bowl – on personal grounds.
READ MORE: Patriots win Super Bowl LI with thrilling 34-28 comeback win against Falcons
Bennett was asked by reporters what he was "going to do about the trip to the White House" during the postgame press conference, following his team's unprecedented 34-28 comeback victory over the Atlanta Falcons at the NRG Stadium in Houston, Texas.
"I haven't thought about it since I came but I'm not going to go," replied a uniformed Bennett, holding his daughter Jett in his arms.
"I'll collaborate later on in life but like right now [I'm] just trying to enjoy this right now. I haven't really thought about but like I said – it is what it is. People know how I feel about it; just follow me on Twitter."
Bennett was a vocal supporter of Democratic candidate Hillary Clinton in the 2016 presidential election. One of his tweets, posted on January 30 of this year, read "America was built on inclusiveness not exclusiveness," in opposition to President Trump's travel ban on seven predominantly Muslim countries.
America was built on inclusiveness not exclusiveness.

— Martellus Bennett (@MartysaurusRex) January 30, 2017
The 6ft 6in, 275lb Bennett went on to reveal in his postgame interview that politics is not often discussed in the Patriots dressing room, nor is it a subject that disrupts the team spirit.
"The thing is we accept people for who they are and that's the biggest thing about what this country is all about," he added.
President Trump tweeted his congratulations to the Super Bowl 51 winners on their triumph.
What an amazing comeback and win by the Patriots. Tom Brady, Bob Kraft and Coach B are total winners. Wow!

— Donald J. Trump (@realDonaldTrump) February 6, 2017
Asked if he was worried would he upset Patriots owner Robert Kraft – who has a close relationship with the president – Bennett replied: "I'm not really worried about that, no, I'm not worried about that at all."
I'm going to speak my mind because guess what... that's right for a looonngg time my ancestors didn't have a voice.

— Martellus Bennett (@MartysaurusRex) February 7, 2017
The Patriots number 88 regularly tweets about the historical significance of the education of black people in America and writes children's books which feature characters of color, something which Bennett says only 3 percent of books include.
On Tuesday, the Super Bowl 51 champions began celebrations of their stunning comeback win with a victory parade setting off from the Hynes Convention Center in Boston, Massachusetts, the state in which the team plays its home games.
Bennett posted images of himself and joyous teammates being greeted by the crowds atop a bus adorned with Patriots colors and emblems.
During the festivities, Bennett was joined in his protest by McCourty, who sent a text message from the bus to Time magazine to say he would not be attending the White House event as he would not feel "accepted."
"I'm not going to the White House. Basic reason for me is I don't feel accepted in the White House. With the president having so many strong opinions and prejudices I believe certain people might feel accepted there while others won't," he wrote.
McCourty is the twin brother of fellow defensive back Jason McCourty, who starts for the Tennessee Titans of the NFL's American Football Conference.
READ MORE: Lady Gaga attracts more viewers than Super Bowl as figures continue to decline
The pair are not the first Super Bowl winners to skip a presidential visit. During Barack Obama's term, Patriots quarterback Tom Brady, whose Super Bowl 51 heroics earned him the MVP award and the title of 'greatest of all time' from many critics, did not attend the White House visit due to a family commitment.
You can share this story on social media: