'Why are informants always selling material, not contacting investigating authorities?' - Isinbayeva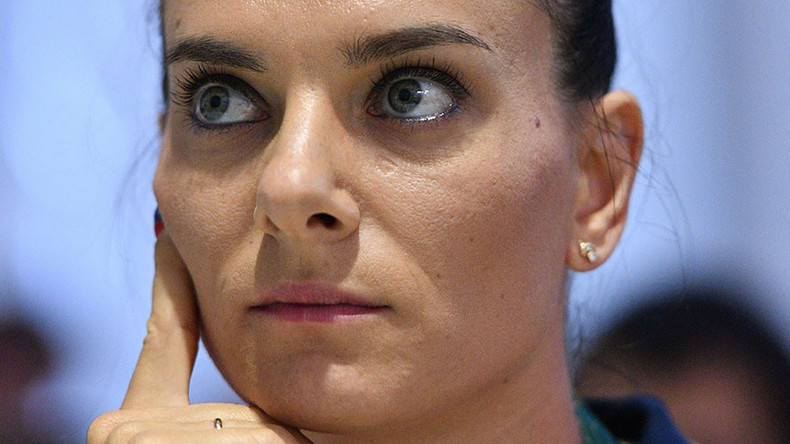 Russian two-time Olympic pole vault champion Yelena Isinbayeva took to social media to expressed her thoughts on ongoing doping scandal around Russian sport and the way informants choosing to act trying to solve the issues.
"I would like to express my point of view on the recently appeared doping story video from another informant," Isinbayeva wrote in an Instagram post.
"I have a question: why don't the informants contact investigating authorities instead of filming material on a hidden camera and then selling it?
"Why don't they go to the Sports Ministry or anti-doping agency to declare the violations?"
Now retired from professional sport, Isinbayeva is obviously referring to the latest documentary on alleged state-sponsored doping in Russia, aired by German TV channel ARD, in which a little-known Russian track and field athlete named Andrey Dmitriev accused coach Vladimir Kazarin of secretly working despite being suspended, while claiming most Russian athletes still use performance-enhancing drugs.
READ MORE: Little-known Russian athlete goes on German TV to claim WADA-banned coach still training
"Our clean athletes are denigrated exactly by those sportsmen who failed in sports," Isinbayeva continued in the post, once again referring to Dmitriev, who's most impressive international sport achievement was coming 50th in the IAAF Junior World Cross Championship in 2009.
In December 2014, ADR aired first documentary about doping in Russian sports, which was based on testimony of Russian athlete Yulia Stepanova and her husband Vitaly. According to the movie Russian track and field athletes instructed by their coaches were systematically doping.
Following the release of first movie and World Anti-Doping Agency commissioned investigation by Richard McLaren, International Association of Athletics Federations (IAAF) imposed a blanket ban on Russian track and field team participating at the Rio 2016 Olympic Games, with only one exception of long-jumped Darya Klishina, who lives and trains outside of Russia. A total ban was also imposed on the Russian team in the Rio Paralympics by the International Paralympic Committee.
READ MORE: Russia's Paralympians banned from competing in Rio
"Unfortunately, those sportsmen who have no relation to doping, are suffering because of people who failed in sports, violated anti-doping rules and wanted to earn money in such a way," said Isinbayeva.
You can share this story on social media: