East Timor excluded from Asian Cup football tournament for false passport scam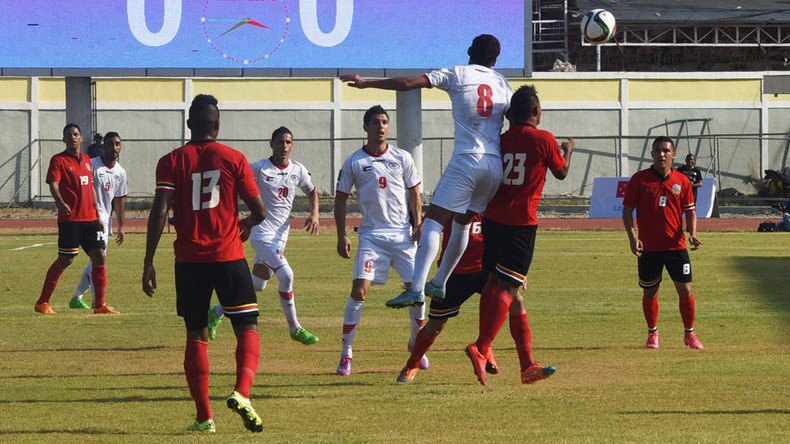 The East Timor national football team has been banned from the 2023 AFC Asian Cup after fielding 12 ineligible Brazilian players in an apparent strategy to end a nearly a decade-long winless run.
The country's football federation, the Federacao Futebol Timor-Leste (FFTL), has been found culpable of using falsified documents and birth certificates to allow Brazilian born players to turn out for the tiny South East Asian nation.
READ MORE: CSKA Moscow warm-weather training in Spain scuppered... by snow!

The revelation was made in a joint investigation by the Asian Football Confederation (AFC) and FIFA officials into more than 30 fixtures.
According to an AFC report, the use of Brazilian ringers in East Timor matches dates back to 2012 and includes East Timor's first ever international football victory - a five-one drubbing of Cambodia.
East Timor's small pool of available footballers has seen the country resort to giving international debuts to players aged just 15. But the team and results have improved with five victories in three years from 2012-2015. They are East timor's only registered victories since their inception in 2003.
In 2015, a local sports activist questioned the influx of foreign players with no apparent connection to the country.
"The Brazilian players, they just come and spend one day and they get a Timorese passport and play in the national team," said Jose Luis de Oliveira, the New York Times reported.
On Friday, FFTL General Secretary Amandio de Araujo Sarmento was found to be liable for the bogus player documents. Another official, Gelasio De Silva Carvalho, was named as bringing the game into disrepute.
READ MORE: Egypt adds ex-international footballer Mohamed Aboutrika to terrorist list

"These documents were submitted to the AFC to demonstrate that the footballers were eligible to participate for FFTL representative teams through one or both or their parents being born in Timor-Leste. Such particulars were found to have been falsified," the AFC said in their report.
Along with exclusion from the 2023 tournament, the footballing minnows have been fined $20,000 and general secretary Amandio banned from football-related activity for three years. A separate fine of $56,000 has been suspended for two years.
East Timor, which only became a sovereign state in 2002, look set to forfeit all fixtures found to involve ineligible players.
Timor East currently sit 191 in the FIFA World Rankings behind Bangladesh.
You can share this story on social media: