'Full sexual service': Footballer Nasri at center of Twitter storm over obscene doctor tweets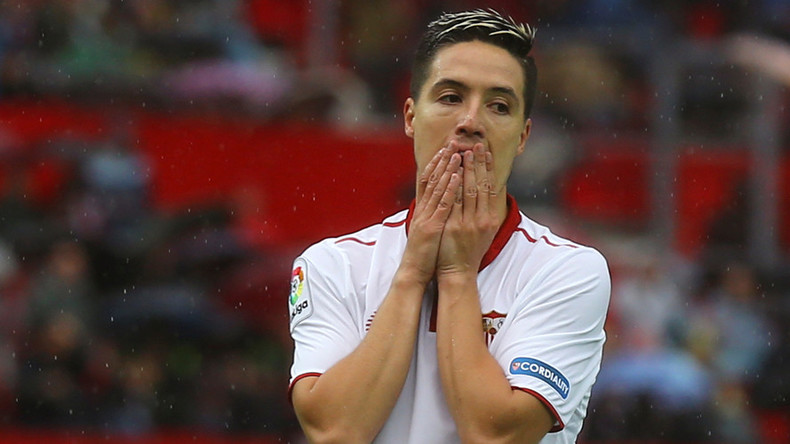 Footballer Samir Nasri is at the center of a social media storm after a barrage of obscene tweets appeared on his Twitter account about a doctor who provided him with IV treatment in the US.
The bizarre series of posts began when LA-based healthcare company Drip Doctors, which specializes in IV vitamin therapy for clients, tweeted a picture about treating Nasri with a concierge drip.
"We provided @SamNasri19 a concierge Immunity IV Drip to keep him hydrated & in top health during his busy soccer season with Sevilla FC," the tweet read.
Suddenly, and bizarrely, a flurry of tweets littered with accusations were posted in response from the account of Nasri, who is on loan at Spanish side Sevilla from English Premier League giants Manchester City.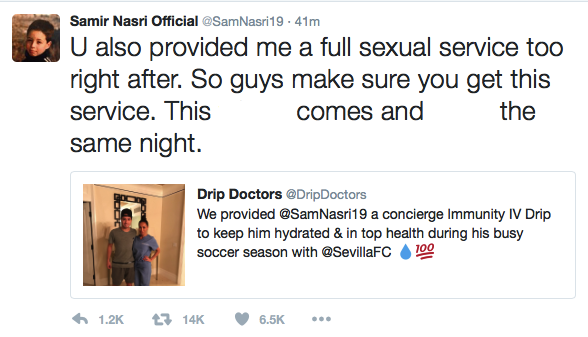 First, one obscene tweet quoted the post from Drip Doctors and accused the company of providing "a full sexual service" while going on to use derogatory language directed at the woman in the picture.
"U also provided me a full sexual service too right after. So guys, make sure you get this service. This w comes and f the same night," the tweet read.
A follow-up tweet, also in response to Drip Doctors, was then posted urging the company to "tell the world aswell [sic] of the other concierge treatment your girl gave straight after the iv drip."
The woman in the picture with Nasri wearing blue scrubs appears to be Jamila Sozahdah, a certified physician assistant who is described on her Linkedin profile as the co-founder and CEO of Drip Doctors, whose image appears on the Instagram, Facebook and Twitter accounts for the company.
The tweets from Nasri's account continued, "Sorry guys i just had to let the world know that my girlfriend anara who was with me at the time had booked this girl to give me an iv drip.
"On arrival anara had left the room and this girl asked for my number and to go out with me that night. She then continued to give me a full service in my hotel room so doubling up her services. Just giving you boys a heads up on this service from @DripDoctors.
"So @DripDoctors jamilah [sic] please tell of your other service you provide the same day as the iv drip?"
Anara is Nasri's ex-girlfriend, Anara Atanes, who also posted about the alleged infidelity on Instagram.
When the tweets began to be deleted, more appeared, which began, "Everything i said was 100 percents facts. The girl in the picture jamilah [sic]. Came to my room at 3am and continued other services that don't come on their menu.
"Unfortunately my twitter keeps deleting tweets. But just letting you boys know if you are in the la area and feeling lonely msg @DripDoctors," the Daily Mail reported.
My account got hacked sorry about what happen earlier

— Samir Nasri Official (@SamNasri19) December 28, 2016
The tweets on Nasri's account have since been deleted and the player has offered an apology to his followers, insisting his account had been hacked. Nevertheless, his number of followers has plummeted from 2.63 million to just 310,000 since the incident.
Drip Doctors also posted a tweet denying the sordid allegations.
They elaborated in a statement for the media:
"Last week, Ms. Sozahdah was dragged into an unfortunate incident involving libelous accusations sent on the hacked social media account of Samir Nasri, after administering a standard treatment on the soccer star. Ms. Sozahdah would like to address head on this unfortunate incident of cyber-bullying: all Drip Doctors services are professional health services, administered by a professional team, and all insinuations otherwise are nothing more than libelous attacks. All too often, women are subject to online harassment, and for cyber trolls, insinuations of sexual impropriety are as easy way to ruin a successful woman's career. Jamila Sozahdah and the entire Drip Doctors team stand by their professional medical services and refuse to be bullied. The entire team looks forward to continuing providing cutting edge medical services to its extraordinary clientele."
Fiery Atanes coincidentally landed herself in hot water after a social media post in 2014, when she launched a scathing attack on France manager Didier Deschamps after the coach dropped Nasri from the country's FIFA World Cup squad.
"F france and f deschamps! What a s*** manager." she wrote, the Guardian reported. Deschamps filed a civil lawsuit against Atanes in response.
Drip Doctors' description of its services differs considerably from what is insinuated in the tweets. "We promote health and wellness by helping to restore and optimize your body's natural balance," its official website says.
The company also boasts that its work is performed by "trained medical staff of Board Certified Physicians, Physician Assistants and Registered Nurses."