British boxer throws table at opponent as press conference descends into chaos (VIDEO)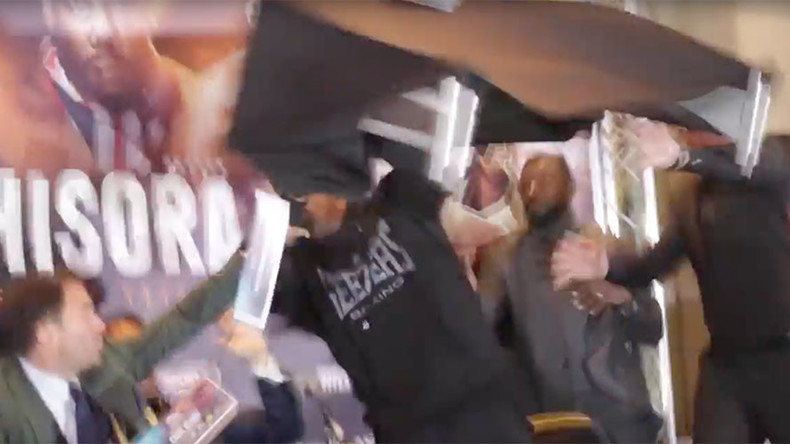 The highly-anticipated British heavyweight title bout between Dereck Chisora and Dillian Whyte could be canceled after ugly scenes at their press conference on Wednesday.
The pre-fight media gathering to promote the fight between the two London boxers descended into a frenetic war of words between Zimbabwe-born Chisora, of Finchley, and Jamaican-born Whyte, of Brixton. Chisora accused Whyte of "threatening my life."
In response to the alleged threats, Chisora furiously banged his fist on the table before hoisting it up and hurling it in Whyte's direction, towards his extreme right on another table.
Whyte trainer Mark Tibbs returned fire by throwing his microphone at Chisora as security staff scrambled to restore calm at the traditional press conference in Manchester.
Chisora and current champion Whyte are scheduled to contest the British title at the Manchester Arena on Saturday, but an emergency British Boxing Board of Control (BBBofC) meeting is understood to be taking place on Thursday, with the bout's cancelation believed to be a possibility.
"Everything is great. The guy can talk sh** about me, I don't mind. Can say whatever he wants," Chisora said to iFL TV.
"But one thing you can't do is threatening my life after the ring.
"[He] said 'You will see. You will see.' That's not cool."
"You have to understand if a man threatens your life, he is not only threatens your life, he's threatens your kids, and everybody around you."
Chisora is a former British, Commonwealth and European champion and world title challenger who twice fought and lost to controversial boxer Tyson Fury.
Promoter Eddie Hearn admitted the scenes were "not a good look for boxing," but he is confident the fight will still go ahead.
"Those guys need to save it for the ring because what we saw went way too far," he wrote in his column in the Daily Mail.
"There is a fine line between hyping a fight and going against the codes of conduct of the sport. Dereck crossed it on Wednesday and now there will be a meeting of the British Boxing Board of Control over the matter.
"The fight will go ahead but we must ensure the rest of the build-up goes smoothly. To do that we will give them separate weigh-ins – there is no alternative because they simply cannot be around each other."
Chisora has previous form in losing his cool outside the ring. An earlier meeting between the pair on Sky's 'The Gloves are Off' program forced a similar security intervention after Chisora threw a glass of water at Whyte.
His 2012 fight with Vitaly Klitschko for the WBC world heavyweight title in Germany was shrouded by violence and disorder before and immediately after the bout.
At the weigh-in for that fight, Chisora, a bandana wrapped around the lower half of his face, slapped Klitschko across the cheek. Following his unanimous decision loss to the Ukrainian, Chisora made his way across the ring and spat water in the face of Vitaly's boxer brother Wladimir.
Chisora then had his BBBofC boxing license revoked after brawling with rival British heavyweight David Haye in the post-fight press conference after an altercation in which Haye broke a bottle over Chisora's head.
The two met in the ring five months later, with Haye winning by fifth-round TKO.