Worst miss ever? Unbelievable miss by Greek footballer inches from open net (VIDEO)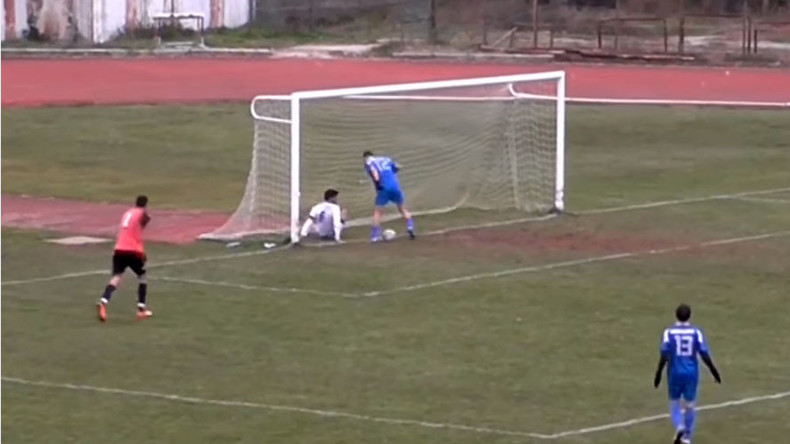 Greek footballer Thanasis Takidis may have made the worst miss of all time in the local fourth tier match between his side Makedonikos Kozanis and Vatera, failing to score from less than 30cm out from an open goal.
READ MORE: The best misplaced pass in football history? (VIDEO)
You could be forgiven for thinking that the game between Kozanis and Vatera might not provide many memorable highlights.
However, there was one moment which will go down in history as possibly the worst miss of all time, made by Kozanis striker Takidis.
Having managed to steal the ball from a floundering Vatera keeper, Takidis still failed to find the back of an empty opposition net.
When the Vatera keeper came to collect the ball with his feet outside the box, Takidis craftily nicked in to steal possession and bore down on an empty goal.
After negotiating his way past a goal post, the Kozanis number 12 looked certain to score.
But Takidis didn't count on an onrushing Vatera defender who had sprinted back to make a last-ditch lunge with Takidis just inches out from a vacant goal.
The defender managed to touch the ball away from danger and save a sure goal, but Takidis still looked certain to put the ball in the back of the net.
Steadying himself to shoot, the striker got his feet tangled, giving the defender time to outstretch a leg and deflect Takidis' feeble shot to safety.
To add insult to injury, Takidis then managed to give away a foul in failing to retrieve the ball.
Maybe one day he will laugh about it, telling the story of how he is the owner of the worst miss in football history.
But the defender might tell a similar tale about his heroic tackle.