Darts legend Bristow fired from TV role after tweets mocking football sex scandal victims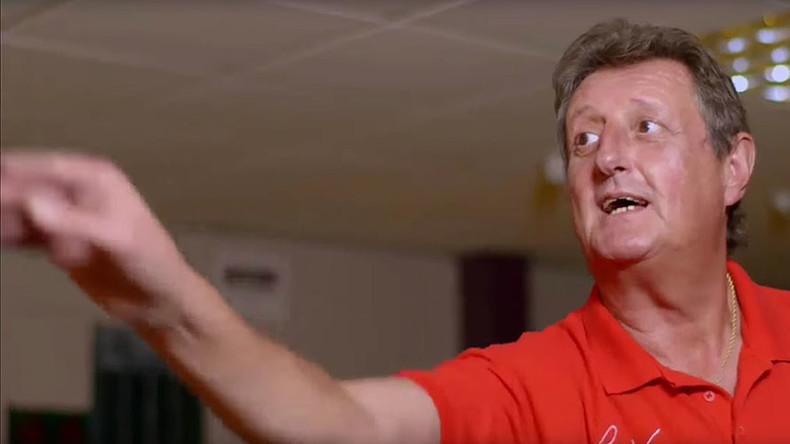 Former darts world champion Eric Bristow has lost his role at Sky Sports following tweets branding the victims of the English football sex abuse scandal as "wimps."
In a series of tweets, Bristow claimed that the abuse victims were not "proper men" and "wimps," in contrast to the "tough men" of darts.
The former world number one – nicknamed 'The Crafty Cockney' – caused outrage with a tweet that read: "Might be a loony but if some football coach was touching me when I was a kid, as I got older I would have went back and sorted that poof out."
Bristow then went on to say that darts players were "proper men" before publishing conciliatory tweets and deleting the earlier offending posts.
Former darts supremo Bristow told his Twitter followers – the number of whom has risen to 100,000 as a result of the incident – that victims should not be able to look themselves in the mirror for not "getting their own back" on their abusers in adulthood.
More than 20 former players came forward alleging sexual abuse in their youth and according to England's Professional Footballers' Association (PFA) chief executive Gordon Taylor, "six or seven clubs" were potentially implicated, including Leeds United and Newcastle United.
READ MORE: FIFA 'monitoring' child sex abuse claims, alleged perpetrator found 'unconscious'
The scandal began when former Crewe Alexandra player Andy Woodward went public with allegations, followed by several other former professionals, including former Crewe teammate Steve Walters and former England international Paul Stewart.
Woodward has told victims not to be deterred by Bristow's comments and to continue speaking out about the abuse.
"All I ask is that people stay focused that we are brave men and PLEASE don't stop speaking out after recent comments. We are SURVIVORS," Woodward tweeted.
Walters has since said he was "disgusted" by the comments from Bristow.
Much of the abuse is said to have been committed by convicted pedophile Barry Bennell, 62, who was a respected youth team coach with a career spanning three decades from the 1970s to the 1990s.
Manchester City, for whom Bennell scouted and coached youth teams, launched an investigation into his alleged abuse and are among four professional clubs to be implicated, with Stoke City, Leeds United and Crewe also under scrutiny.
Bennell, who had ties at varying times with each club, was jailed for four years for raping a British boy while on a football tour in Florida.
He was then jailed in 1998 for nine years for a string of sexual offenses dating from 1978 to 1992.
On Monday, it was reported that Bennell had been found unconscious at the Novotel hotel in Stevenage late on Friday evening, and had been taken to the town's Lister Hospital.
Five police forces – Cheshire, Hampshire, Northumbria, the Metropolitan Police and Greater Manchester – are investigating allegations of historical sexual abuse.