Fido in the outfield! Stray dog halts England versus India cricket match (VIDEO)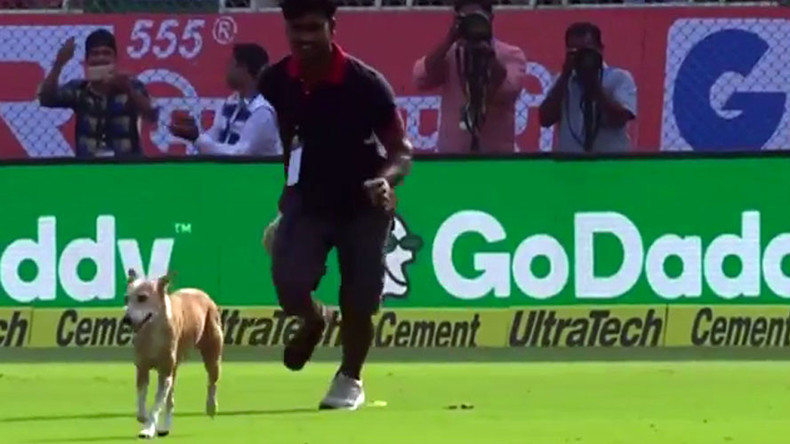 This is the heartwarming moment an apparently non-sports-loving dog stopped play in a cricket match between England and India on the subcontinent.
The incident happened on Thursday during the second test of the five-test series at the ACA-VDCA Cricket Stadium in Visakhapatnam on India's idyllic eastern coast off the Bay of Bengal.
During a lull in play with India 210-2 against the visitors in the first innings, a carefree mutt suddenly entered the field of play and began enjoying a gentle stroll around the field.
The animal trotted around the pitch oblivious to the game going on around him and searching in vain for an exit until two stewards raced over to try and escort it to safety.
Just as they approached the dog it froze, then raced around the hapless helpers and off the pitch.
But that was far from the end. The dog reappeared minutes later to rapturous roars from the spectators.
If that wasn't already humiliating enough for the stadium staff, the dog then positioned itself to answer the call of nature, leaving its mark on the field in front of a delighted crowd cheering for the underdog.
Utterly stumped, with no other option than to pause play, the umpires removed the bails and the players went off for tea, leaving the dog to roam on an empty pitch.
It couldn't have come at a worse time for Indian batsman Cheteshwar Pujara, who was at the crease on 97 and looking to make his century. The English players were understandably glad of the chance to regroup. The series is currently tied.
The dog has since had a Twitter account set up. 'Vizag Dog' currently has 108 followers on the social media network and has posted pictures taunting his would-be captors with cheekily-captioned tweets.
His twitter bio reads: "Love cricket, hate Indian batsmen getting to 100 before Tea. Woof!"