Russian hockey 'security guard' dancing to Michael Jackson goes viral (VIDEO)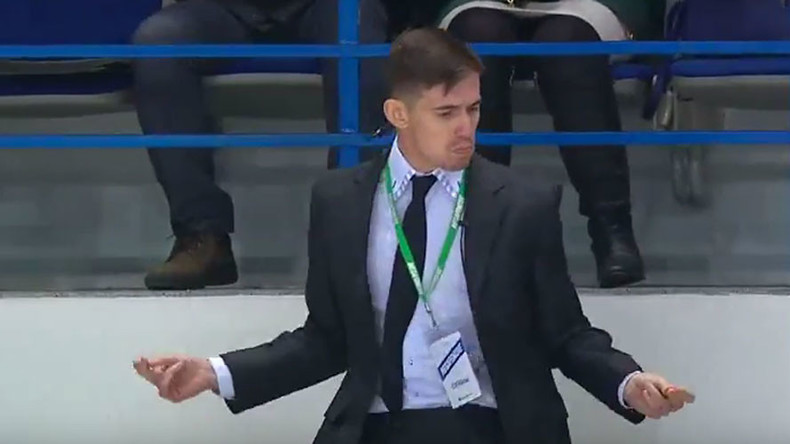 Footage of a footloose security guard dancing to Michael Jackson at a Kontinental Hockey League (KHL) game in Russia's Far East has proved to be a worldwide hit with sports fans.
Taken at Platinum Stadium, a 7,100-seat sports facility in the city of Khabarovsk, the camera fixes on a security guard as he busts some moves to 'Billie Jean' by the 'King of Pop'.
During a break in the game between home side Amur Khabarovsk and HC Sibir Novosibirsk, the suited security guard first appears stern-faced and focused – until he recognizes the beat of the MJ classic.
His face then changes in a flash and he begins to dance along to the 1983 hit, which is widely recognized as one of the greatest floor-fillers of all time.
In wonderful contrast, at the moment the dancing bug fully infects the guard, his colleague is seen steadily slinking off into the background to avoid attracting attention.
The guard's funky routine features signature Jacko moves and even the splits as he jives away, much to the amusement of the watching crowd.
However, despite his impressive dance moves, it seems the soft-shoed security guard forgot to include what Jackson perfected and made famous: the moonwalk.
Nevertheless, the video has gone viral since being posted to such sites as Yahoo Sports and The Lad Bible attracting 912,000 views and 14,000 likes on the latter's Facebook page thus far.
The match itself finished 4:3 to Sibir after a shootout. The KHL, which is considered the biggest hockey league outside of North America's National Hockey League (NHL), features 29 teams from Belarus, Croatia, Kazakhstan, Russia, Slovakia, China, Latvia, and Finland.