Flares thrown by English football fans miss players by inches during FA Cup tie (VIDEO)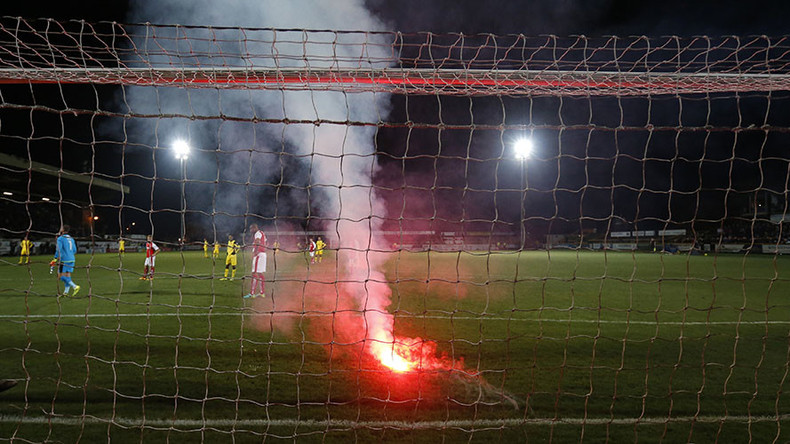 The English FA Cup tie between home side Southport FC and Fleetwood Town on Monday descended into chaos when Southport fans threw flares at the visiting players' heads.
Crowd unrest escalated at Southport's Haig Avenue stadium in Merseyside when rowdy fans standing behind the Fleetwood goal began tossing flares in their team's yellow home strip colors onto the pitch and at players during the second half of their FA Cup first round meeting.
Flares fizzed past the heads of Fleetwood players Chris Neil and Nathan Pond by mere inches, forcing referee Darren England to stop the match for a full 10 minutes while order was restored.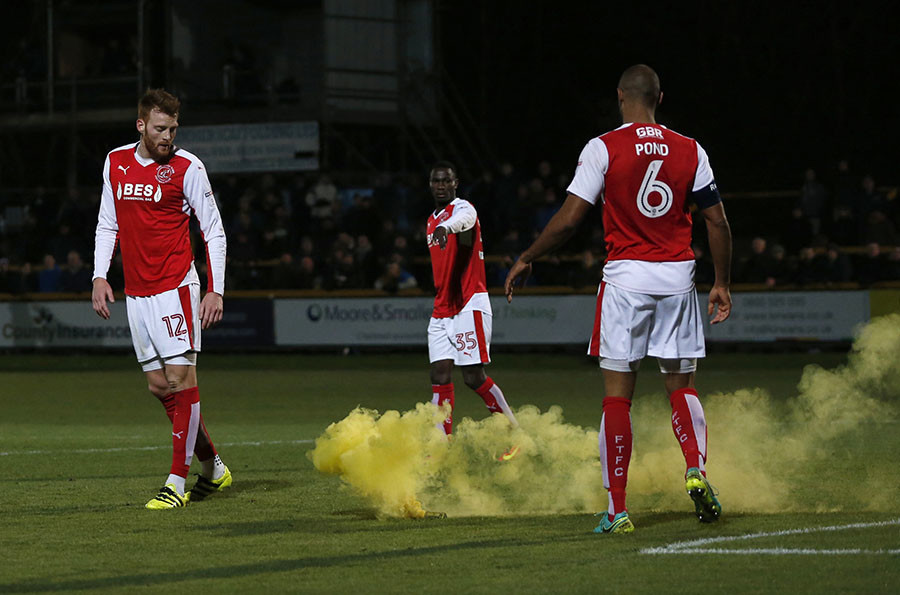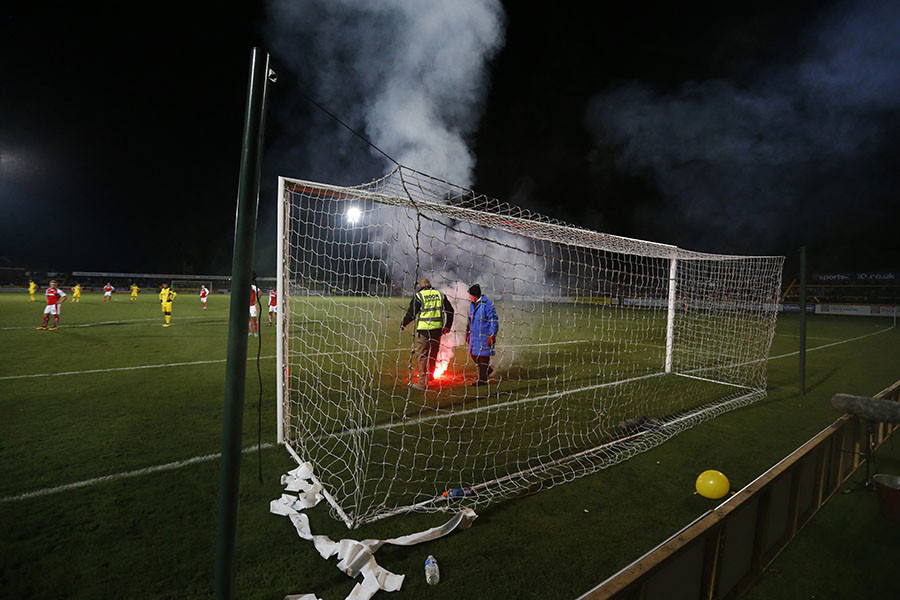 The match itself ended 0-0 but left a sour taste in the mouths of both managers.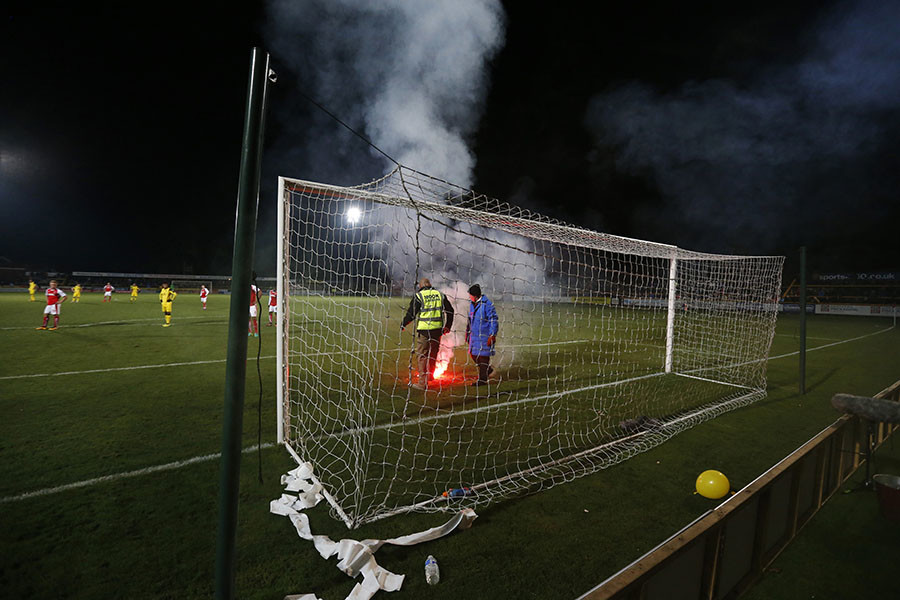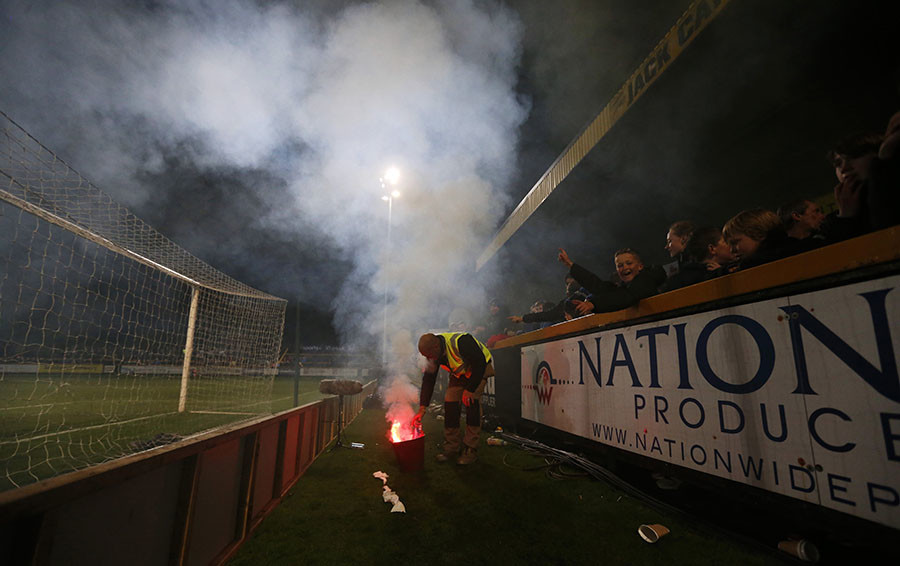 National League minnows Southport, who play two leagues below League One Fleetwood, could now face financial punishment from the FA and the fans in question have been admonished by their manager as dangerous.
The club is now likely to face a fine from the FA.
"Of course I'm worried about a fine, we can't afford a fine. You don't want to see [flare throwing] because someone could get hurt," said Southport manager Steve Burr, the Sun reported.
Read more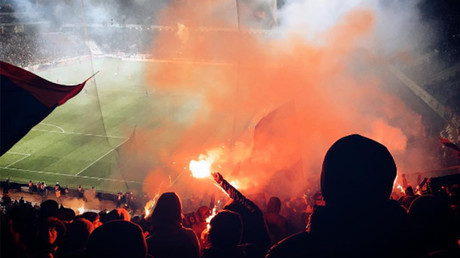 "I wouldn't say it spoiled the game but it's unnecessary. We don't need that," said former Manchester City striker and Fleetwood manager Uwe Rosler.
"You've seen it at the Olympic Stadium with West Ham and now live on television."
The scenes bore a striking resemblance to the Moscow derby clash between Spartak and CSKA on October 29, in which both sets of fans threw smoke grenades and flares onto the pitch and at each other.
Referee Alexey Nikolaev was forced to halt play until a cloud of smoke lifted from the pitch as CSKA fans lit and threw flares and smoke bombs at Spartak supporters at Spartak's Otkrytie Arena in the 'Main Moscow Derby'.
Around 1,200 security personnel had been deployed to maintain order at the notoriously lively fixture, but following the unrest at the match the Russian Football Premier League called for tougher punishment for using flares during matches.