Former US soccer player Lauren Holiday has brain tumor removed just weeks after giving birth
Published time: 21 Oct, 2016 17:08
Edited time: 21 Oct, 2016 17:09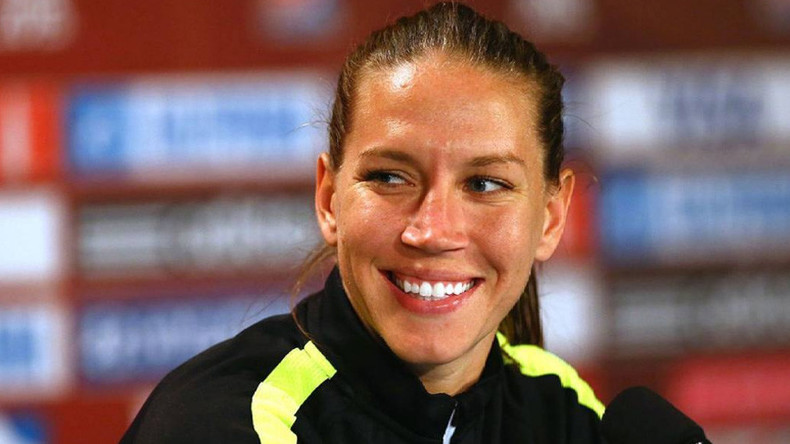 Former US soccer player and new mother Lauren Holiday has completed surgery to remove a brain tumor that was detected when she was eight months pregnant.
Last month, it was announced that Holiday was suffering from a benign tumor on the right side of her brain. The news came six weeks before her baby was expected to arrive.
Born Lauren Cheney, she retired in 2015 at the peak of her career to begin a family with her husband, basketball player Jrue Holiday of the New Orleans Pelicans, whose she married two years previously.
At the time, Lauren was considered one of the elite players in the women's game, appearing on the cover of Sports Illustrated posing with the World Cup trophy following the US women's soccer triumph in 2015.
She had scored a goal in the final to help her side beat Japan 5-2.
The couple's plans were running accordingly when Lauren fell pregnant at the beginning of this year.
But when Lauren began to feel numbness in the side of her face, she was diagnosed with the tumor, which was causing the lack of feeling by pressing against a nerve.
Doctors told her the tumor was operable and not a threat to her unborn child, but that the surgery would have to wait until after the birth.
Her husband duly took a leave of absence from the NBA to care for her and insisted he would miss the start of New Orleans' season because "family comes first."
On September 24, Lauren gave birth to a healthy baby girl, meaning she could finally go through with the necessary surgery to have the tumor removed.
She was actually no stranger to major operations, having undergone open-heart surgery at the age of three to correct a heart defect.
The Holidays are devout Christians and have thanked supporters for their well wishes and prayers. Her teammates created the initiative of wearing wristbands with the message "LH12", which combines Lauren's initials and shirt number, as a show of solidarity.